Profile Home
Supplier:
Electri-Flex Company
About


Diversification within One Product Line
Electri-Flex Company offers the broadest variety of liquid-tight flexible metal conduits ranging from UL Listed and CSA certified products to specialized ones designed for extreme temperatures, halogen-free, low smoke, EMI/RFI shielding applications and custom color configurations. Product categories include:
Jacketed Metallic/Liquatite® Line
EMI/RFI Shielded/Shield-Flex™
Unjacketed Metallic
Non-metallic
Corrlok® line of Nylon Conduits & Connectors.
Custom design and manufacturing capabilities are also available.
The Shield-Flex™ Line is an example of the innovation at Electri-Flex Company. This line includes three varieties of flexible conduits that shield sensitive equipment and circuits from EMI/RFI emissions and are ideal for the following markets
| | | | | |
| --- | --- | --- | --- | --- |
| ● Medical | ● Military | ● Industrial | ● Government and/or Defense | ● Utilities |
| ● Aerospace | ● Telecommunications | ● Commercial | ● Public Transit | |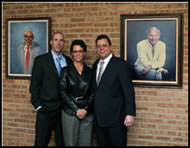 Liquatite® by Electri-Flex has earned an international leadership reputation for quality, service and product innovation. Electri-Flex's real source of success has sprung from its partnership philosophy. This philosophy was perhaps best stated by H.W. "West" Kinander, Jr., former President and co-owner shortly before his untimely death in 1991:

"Quality, service, fair distributor margins and loyalty to one's business partners has been the theme since our Company began. It will continue to be the benchmark by which our Company will be judged."

-H.W. "West" Kinander, Jr.

Technical Articles

EMI/RFI Informational Bulletin
(Wire and Cable Accessories)
EMI and RFI interference are an issue for OEM's and consumers worldwide. Interference can be extremely destructive if not mitigated properly. Electri-Flex' Shield-Flex shielded flexible conduit... (
View Full Article
)