Profile Home
Supplier:
Linx Technologies
About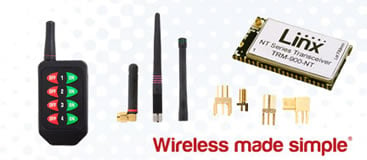 An Internet of Things Products and Services Provider
At its core, Linx Technologies is an RF module company. We are world leaders in supplying radio modules to remote control applications and we have extremely competitive modules for data transfer. Our tag line is Wireless Made Simple™, meaning that we specialize in making the complex world of radio frequency easy for engineers of all skill levels to use. They are designed for small size, high functionality, low power and low cost for volume manufacturing. We support applications in most market verticals, including many that you would never consider.
We support our module line with one of the broadest lines of antennas in the industry and high-quality, low cost RF connectors. Linx rounds out its product portfolio with GPS/GNSS modules, a variety remote controls and keyfobs, battery holders, and custom cable assemblies.
With the addition of Smartlinx™, an Internet of Things (IoT) solution, Linx offers solutions from the wireless componentry and electronics to cloud services, data management and user interface solutions. With this customers can remotely connect and control, record, store, analyze, and visualize their information. Linx's flexible Smartlinx™ IoT platform offers custom web and smart device application tailored for the customers' applications.
Performance made affordable.
Technical Articles