About
Catalytic Products International, Inc. (CPI) was founded in 1967, specializing initially in precious metal catalysts. CPI holds 14 patents for different precious metal catalysts the company has developed. Armed with experience and expertise in process chemistry and mechanics, CPI evolved into one of the world's leading suppliers of high quality air pollution control systems.

Today, CPI offers products and services through five business units:

The Custom Systems Group provides all aspects of air pollution control application analysis and product recommendations for any kind of VOC, HAP, NOX, odor, and other air pollution abatement project.

The Technical Services Group is staffed to handle 24-hour immediate response service, planned preventative maintenance services, installation support and permitting support, and many other services.

The Energy Conservation Group is primed to develop custom engineered heat exchangers and sentinel filtration systems to comply with greenhouse gas regulations and create efficiencies for rising utility costs.

CPI's METAC® Product Group continues to manufacture specialty catalysts. Their state-of-the-art catalyst facility supports applications involving new systems, retrofit applications, after-sale services, and sample testing.

The Engineering Services Group is comprised of a complete professional engineering staff, expert in all aspects of fume incineration/oxidation, energy conservation, process integration, installation, and service.
SINGLE SOURCE COMMITMENT
CPI prides itself on providing truly customer-oriented, single source solutions. As a manufacturer of all types thermal treatment systems, CPI has the best ability to analyze your needs and make practical recommendations, rather than trying to "force fit" an application that is not in your best interests.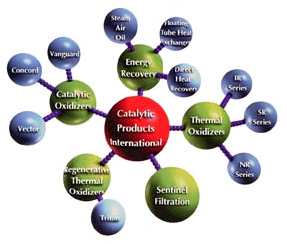 This single source attitude starts with your initial contact with CPI. Their professional staff is committed to providing the kind of service that is often forgotten in today's fast paced business climate, such as: listening to your issues; discussing your expectations; understanding your project needs; and honestly discussing each systems' capabilities. This personalized approach is the key to CPI's ability to serve you best.
CPI's single source commitment assures you their products are backed by industry leading guarantees and warranties, provided with superior service and support, and backed by their 43 year history of providing high quality air pollution control solutions!
CPI's goal is to keep your operations compliant and profitable...let CPI show you how they can help!

Product Catalog
Technical Articles

Alternative Fuels
(Air Quality)
Industry is looking for new fuels that can replace coal, oil and natural gas. This free white paper takes a look at some of the technical and regulatory challenges involved in developing alternative... (
View Full Article
)