About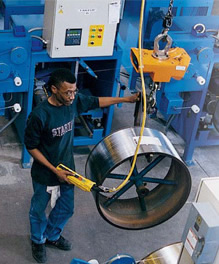 Ulbrich Stainless Steels & Special Metals, Inc. is a world-wide processer and distributor of stainless steel and special metals. Their products include:
Precision rolled stainless steel and special metals strip and foil
Precision rolled stainless steel and special metals flat and fine wire
Precision rolled stainless steel and special metals shapes and profiles
Stainless steel sheet, plate and bar
Stainless steel and special metals service centers
Ulbrich has extensive capabilities in precision rolling stainless steel strip, special metals strip and specialty wire to exacting dimensions. Their specialties include:
Thin gauge strip, foil and wire with narrow width capabilities
Extremely close dimensional, camber, and flatness tolerances
Precision slitting, edging, leveling and packaging
Extensive selection of stainless steel, special metals, nickel alloys, and titanium in stock
Custom R&D quantities in addition to large production runs

The alloys that Ulbrich Stainless Steels & Special Metals processes are known for their superior performance and excellent reliability. These products are the result of years of metallurgical development, offering properties well beyond those of ordinary metals. Their job is to help you fully realize that potential. To do so, Ulbrich is continually adding new equipment and technologies, expanding their quality assurance programs and working to ever tighter tolerances.
Ulbrich Stainless Steels & Special Metals serves markets as diverse as aerospace, aircraft and automotive, nuclear and solar energy, medical and surgical equipment, chemical processing, electronics and many others. To some customers, they are a precision re-roller processing stainless steel, nickel alloy and titanium alloy strip to exacting dimensions for critical high performance applications. To others, they are a network of specialty service centers with six North American locations supplying various forms of stainless steel and specialty metals, expertly processed and delivered on time. For others, they start with rod or wire and shape it into various cross sections that in some cases perform as a near net shape. They also roll fine round wire into flat wire, with extremely close tolerances and to dimensions a fraction of a human hair. This and many other possibilities are available within the Ulbrich family of capabilities.

Supplier Directory Categories
Ulbrich Stainless Steels & Special Metals, Inc. is listed in these categories: