Profile Home
Supplier:
DSTI - Dynamic Sealing Technologies, Inc.

About
Company
Dynamic Sealing Technologies, Inc. (DSTI) specializes in the design, manufacturing & integration of rotary unions & rotating joints. The company offers a full line of standard products for a wide variety of applications, as well as complete specialized rotating union design & build services.
Worldwide Markets
+ Aerospace
+ Alternative Energy
+ Construction & Agriculture
+ Defense
+ Factory Automation
+ Food & Beverage
+ Machine Tool
+ Marine & Offshore
+ Medical
+ Metal Production
+ Oil & Gas
+ Plastic Molding
+ Semiconductor
Facility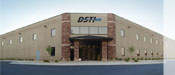 DSTI's climate controlled facility offers full CNC manufacturing with large capacity and high precision machining centers, advanced quality control systems and a complete engineering / research and development department.
In addition, DSTI has an in-house assembly and testing department and an extensive inventory of stock products for same-day shipping.
Rotary Union | Design
+
Manufacturing

Standard Solutions
Wide range of stock rotary unions for a variety of standard applications with designs featuring:
Multiple Passages
High Pressure
Lightweight-Compact
High Flow Volume
Electrical Slip Ring Options
Crosstalk Protection

Specialized Solutions
DSTI's experienced engineering staff will design a custom rotating union that will fit into your space envelope, transfer your media, handle your system pressures and operate at your rotational speeds. DSTI offers specialized rotary union design & build services which include:
Engineering & Design
Simulation & Design Verification
Advanced Manufacturing
Inspection & Quality Management
Assembly & Testing
Value-Added Products & Services


Product Catalog
Technical Articles