Profile Home
Supplier:
Trotec Laser, Inc.
About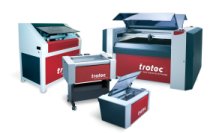 Laser Engraving, Cutting, and Marking
Turnkey laser solutions for industrial engraving, cutting, and marking. Trotec can process over 100 different materials. Advanced laser equipment and expert customization services. Top-quality products and high-performance, computer-controlled production. The perfect fit for many types of laser applications, including engraving, cutting, and marking. Laser investments that make business sense. Meet Trotec - a leading laser manufacturer.
As the leading international provider of laser equipment for a range of applications, Trotec's mission is to provide effective solutions that are tailored to individual needs - delivering laser solutions that cut costs, increase profitability, and maximize ROI. Whether it's laser engraving, laser cutting, or laser marking you need, they have the right solution for you.
Trotec offers a diverse portfolio of advanced CO2, Nd:YAG, YVO4, Fiber and Excimer lasers, with flatbed flying-optics and beam steered galvanometer motion systems - guaranteeing maximum value and productivity for each application. They also offer the industry's first-ever HYBRID laser system, combining both CO2 and Nd:YVO4 laser sources into a single system.
As part of their commitment to offer complete laser solutions, Trotec also provides customers with access to a wide range of laser tools, options, and accessories.
Trotec continues to live up to its commitment to delivering best-in-class products and services. Since its initial launch in 1992, Trotec has received numerous innovation awards, and in 2000 was granted ISO 9001 certification, meeting the highest standards for quality.
Trotec Laser, Inc. is also listed in these categories:
Technical Articles


Clean Optics:Just Two Easy Steps
(Lasers)
Clean optics are a basic requirement for perfect cutting and engraving results. The engraving of certain materials like wood or rubber stamp cause more dust than processing other materials. Depending... (
View Full Article
)