About

Veriteq was acquired by Vaisala in the spring of 2010, consolidating two high performance companies to provide a broader range of industry-best solutions for measuring, monitoring, and testing critical environmental parameters.
Now part of Vaisala's Controlled Environments division, Veriteq's original focus remains today: providing the most accurate environmental monitoring, alarming and validation solutions to the pharmaceutical, biotechnical, medical, aerospace/defense and calibration industries.
In joining Vaisala, Veriteq has combined forces with the global leader in environmental and industrial measurement. Building on more than 70 years of experience, Vaisala contributes to a better quality of life by providing a comprehensive range of innovative observation and measurement products and services for meteorology, weather critical operations and controlled environments.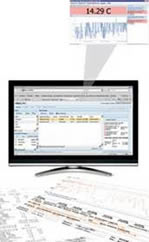 Veriteq retains its original commitment to quality and continues to develop, improve and broaden the functionality of its main offerings: the viewLinc™ Monitoring and Alarming system and the vLog™ Validation system. Both solutions are highly reliable and designed to meet the demanding needs of GxP/FDA regulated customers and non-regulated organizations that are subject to audit.
At Veriteq every member of their team is committed to continual product improvement. Both Veriteq and Vaisala are known for their exceptional responsiveness to their customers' needs; their shared value of customer service as a first priority make them the ideal partnership in providing customers the finest solutions and service they can rely on.
Headquartered just outside Vancouver, British Columbia, Canada, Veriteq distributes its systems directly and through a growing worldwide network of experienced distributors.
For more information on Veriteq please contact them today.

Supplier Directory Categories
Veriteq, a Vaisala company is listed in these categories: