About
Cognex Corporation is the world's leading supplier of machine vision systems, which are used to automate a wide range of manufacturing processes where vision is required. In 2010, they posted $291 million in revenue. Since its founding in 1981, Cognex has:

Generated over $2 billion in cumulative revenue;
Shipped more than 350,000 vision systems;
Acquired more than 223 patents, with over 100 U.S. and international patents pending.

Because of their excellent performance, Cognex has been recognized repeatedly by a number of top publications, including BusinessWeek, Fortune, and Forbes. They are publicly traded over the NASDAQ under the symbol CGNX.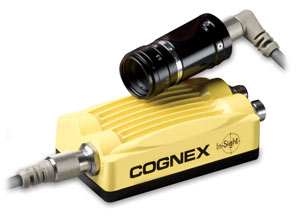 Advanced Machine Vision Systems
Cognex's vision systems automatically identify products, inspect for defects, gauge part dimensions, and guide robotic equipment — at up to thousands of parts per minute. For example, their products are used to track semiconductor wafers through manufacturing processes, to guide the placement of surface mount devices (SMDs) onto circuit boards, to inspect light bulbs, and to assess the quality of printing on the face of a watch.
In a typical application, a Cognex machine vision system captures an image of the part to be inspected through a video camera. The system then analyzes the image and generates an answer about it, such as whether a part is defective. This information then can be sent to other equipment in the manufacturing line, including a robotic arm that will remove a bad part from the process.
Complete Family of Machine Vision Products
Cognex provides the broadest range of products in the vision industry, enabling their customers to meet all of their machine vision requirements with a single vendor. They provide industrial-grade products that meet the highest standards of reliability and can tackle the most challenging vision tasks and the toughest manufacturing environments found anywhere.
In-Sight ® Vision Systems deliver proven Cognex technology in low-cost, compact, and easy-to-use packages. These vision systems are ideal for a wide range of vision tasks, including dimensional measurement, part location, assembly verification, and part identification. And, the In-Sight 5000 Series offers unmatched speed and ruggedness.

PC Vision Systems combine the power and flexibility of advanced programming with the simplicity of a graphical programming environment. An array of PC-based products offer unequaled image acquisition speed, processing power, and communications flexibility.

ID Products quickly and reliably read codes (two-dimensional codes such as Data Matrix ™, 1D codes, and others) that have been stamped, etched, or otherwise formed directly on surfaces of manufactured items. Applications for these fixed-mount and hand-held readers include part traceability and process control in the automotive, aerospace, and electronics industries.

Expert Sensors deliver low-cost solutions to specific automation problems. An example of these products is their self-contained stereovision sensor that detects, counts, and tracks people. This is part of a family of sensors that provides solutions based on a new generation of vision technology from Cognex.

Surface Inspection Systems provide comprehensive surface and web inspection of products that are manufactured in a continuous fashion, such as metals, paper, nonwovens, and plastics. Utilizing the right combination of lighting, image capture, and image processing software, the SmartView ® inspection system provides reliable detection, identification, and visualization of defects.

Product Catalog
Cognex Corp. is listed in these service categories:
Technical Articles