Profile Home
About
Burger & Brown Engineering, Inc. is Your Source For:

| | |
| --- | --- |
| | Whatever parts your manufacturing process requires, Burger & Brown Engineering is a valuable resource for precision contract machining of steel, aluminum, brass, stainless steel and plastic materials. |

| | |
| --- | --- |
| | Burger & Brown Engineering routinely machines ultra-precise parts that few companies are capable of. |

| | |
| --- | --- |
| | Industrial Automation machinery from Burger & Brown Engineering will improve your efficiency and cost effectiveness ...giving you bottom-line results. |
Burger & Brown Engineering's Mission
Total customer satisfaction is the number one goal at Burger & Brown Engineering. By providing you with expertise, experience, and meticulous attention to detail, they seek to become your 'Partner in Precision' for the long-term.

---

Water Manifolds help you increase cooling efficiency and speed cycles by providing ample water supply to cooling processes.
---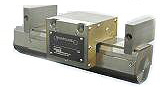 Smartline™ Greaseless Mold Carrier and Alignment System eliminate wear and the need for grease with Smartline™
---

Smartflow® Ferrogard™ removes metallic particles including rust from cooling water and hydraulic fluid circuits protecting pumps, seals, and valuable tooling from excessive wear.
---



Flowmeters in standard mechanical, Hot Oil, and Electronic versions. Sizes from 1/4" to 2" and many flow ranges provide valuable information for process control and troubleshooting.
---



Flow Regulators incorporate Smartflow®'s proven small flowmeter, temperature gauge and needle valve into one rugged, compact unit for dependable individual cooling circuit control.
---




Limit Switches (Thinswitch®, Versaswitch™, and Smartlock®) help prevent costly damage to valuable tooling.
---



The Smartflow® unique, non-electric Mold Temperature Regulator provides temperature control to single or multiple zones easily, without power.
---



Speed injection mold changes with SWAP® Valve to quickly evacuate cooling water.
---


Quickly Tie-In and release press and mold ejector systems with Smartflow FasTie®, SpeedBar ® and K-Link™.
---


Use our Configurator — Custom Manifold Assemblies from Standard Smartflow Components.
---
Technical Articles