Profile Home
Supplier:
Chromalox

About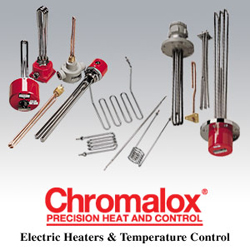 For more than 90 years, customers have relied on Chromalox for the utmost in quality and innovative solutions for industrial heating applications.
Chromalox manufactures the world's largest and broadest line of electric heat and control products, including heating components, immersion heaters, circulation systems, heat transfer systems, boilers, industrial and comfort air heating, heat trace cables, sensors and precision electronic controls.
Custom Designed Solutions
More than two million custom engineered heat and control solutions on file...and counting.
Bring your application challenge to us. Our engineers will custom design the right product to meet your needs. With more than 700,000 top-level drawings on file, we will customize an existing product or design, or manufacture a new one to fit your needs. Our goal is to provide the right solution for you.
Complete Vertical Integration
Beyond custom product engineering, Chromalox remains a leader in designed systems because we control the manufacturing process from the first component to the finished product. While some companies simply assemble purchased parts, our vertical integration of product manufacturing allows tight control of all procedures. Because Chromalox manufactures the component parts, we can adjust to meet our customers' critical requirements.
Industry-Leading Quality
Supplying superior products to our customers is our top priority.
Ensuring the utmost in product quality is a very high priority at Chromalox. Superior quality means producing a single component, or an entire system, that meets or exceeds our customers' expectations. It also means shipping the right product, to the right customer, in the right quantity, on-time.
In every market we serve, across every continent on the globe, we aim to achieve 100% satisfaction -- building a strong, loyal, and ever-expanding customer base. Regardless of geographic location, our customers expect the same level of quality, reliability, service, and safety. Meeting these expectations requires the rigorous application of systems and methodologies that support standardization throughout the entire company.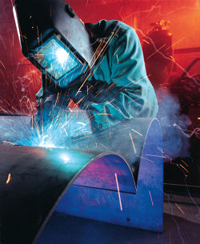 We believe that in order to build a strong manufacturing "house", we must first lay a solid foundation of visual management techniques, strict adherence to standards, elimination of waste, teamwork, and clearly defined goals. Upon this strong foundation are the essential building blocks which comprise the support columns of lean manufacturing, employee satisfaction, and attention to quality. As illustrated below, it takes many building blocks to build a strong manufacturing organization, and to achieve our ultimate goal of customer satisfaction.
Chromalox Stock and Delivery Systems Keep Your Operation Online
Chromalox maintains an inventory of nearly one million items. They also operate the fastest delivery system in the business. Any component or system they stock can be shipped within 24 hours through their Chromalink electronic direct order entry system. Same-day delivery is available for many items. In addition, factory offices, stocking representatives, and over 2,000 authorized distributors carry Chromalox systems and components for same-day pickup.

Product Catalog
Technical Articles

Calculating Heat Loss
(Uncategorized)
This article deals with the basic principles of heat transfer and the calculations used for pipes and vessels. By understanding fundamental heat transfer concepts, you can use them used to arrive at a... (
View Full Article
)