About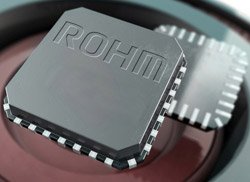 ROHM is the industry leader in system LSI, discrete components and other modules, utilizing the latest in semiconductor technology. ROHM's proprietary production system, which includes some of the most advanced automation technology, is a major factor in keeping it at the forefront of the electronic component manufacturing industry. In addition to its development of electronic components, ROHM has also developed its own production system so that it can focus on specific aspects of customized product development. ROHM employs highly skilled engineers with expertise in all aspects of production— from development, design and testing through to maintenance and control of the production line. This allows ROHM the flexibility to take on a wide range of
applications and projects.

ROHM's LSI Product Development Division uses a variety of element technologies to develop system LSIs to meet customer needs. As ROHM continues to develop multimedia devices that handle image compression, broadcast moving images, enhance optical transmission and computer communications or build on its optical disk (CD-ROM) storage systems, its high-performance LSIs offer a peek into the new information age. ROHM was the first company in Japan to develop a single-chip LSI containing a modulation circuit and protocol software for IrDA communications.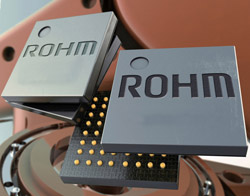 In addition to being a cutting-edge provider of LSIs, ROHM is among the largest manufacturer of discrete semiconductors and passive components in the world. Their products are used in virtually all types of devices and equipment in the telecommunications, consumer, industrial and automotive sectors. Expertise garnered from years of experience combined with uncommon innovation, allow them to provide the most advanced, reliable electronic components in the industry.
In line with its "Customer & Quality First" business philosophy, ROHM has set up an extensive international sales organization with local representatives around the globe with regional warehousing. The international sales team is dedicated to serving its local customers and to provide the necessary technical support in order to use the products more effectively and efficiently.

Product Catalog
Technical Articles