Profile Home
Supplier:
MSK Products
About
Empowering Microelectronics for Extreme Application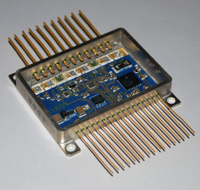 Since 1971, MSK has been a leader in the design and production of high performance analog microelectronics. MSK's standard products include operational amplifiers and video amplifiers, motor drives and linear regulators – as well as switching voltage regulators. MSK is a leading producer of custom hybrids, power hybrids and multichip modules – applying our circuit design expertise and versatile packaging capabilities to each circuit produced.
MSK is certified for both Class H (Military) and Class K (Space) of MIL-PRF-38534, and Class Q and V of MIL-PRF-38535 by the Defense Logistics Agency, Land and Maritime Systems in Columbus, Ohio as well as AS9100. MSK has the capability to qualify products up to 232'C for Oil and Gas and Aerospace extreme environment applications.