Axle Prototypes Go Light...Go Strong
Service Detail from 3 Dimensional Services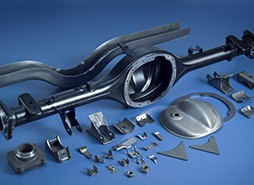 Fluctuations (mostly spiraling upward) in gas prices...emerging evidence and acceptance of global warming...rapid depletion of oil resources...government intervention to increase mileage standards. Circumstances that have many in the auto industry scrambling to embolden their product fleets with vehicles obtaining higher gas mileage ratings and lower emissions, yet still provide the performance drivers have come to expect-especially the tough, rugged and powerful pickup truck sector. As most domestic as well as global automakers have now begun dynamic review, research and development programs to find the right combination of engine, drivetrain, powertrain and driveline components...all to provide combinations that will deliver optimum driving performance and mileage ratings.
For one automaker that combination includes, among other component concepts, a new high strength, lightweight 'banjo' rear axle concept for use in both its 2-wheel and 4-wheel drive vehicle truck models as a viable solution to delivering driving performance and reliability versus weight savings and fuel economy.
A 'banjo' axle, is typically constructed using stamped, high strength components welded together to form an axle housing that can greatly reduce the mass of the part and, therefore, vehicle weight, as is usually the case associated with cast 'salisbury' type axles. With time constraints a factor, and to avoid potential interruptions to existing production cycles, the powertrain engineers for the automaker sought the assistance of the 3-Dimensional Services Group, a Rochester Hills, MI-based rapid prototyping firm that specializes in the design, engineering and analysis, in-house tool construction, and complete build of first off parts and low to medium volume production runs. The company's use of advanced process methods and manufacturing technologies means prototype parts are typically provided up to 70% faster than conventional prototype shops are able to offer.
With the automaker seeking parts and components for crucial testing deadlines and final review decisions, 3-Dimensional Services began its work on the rear axle housing. The housing consisted of nearly 30 individual stampings, many structural components fabricated from high strength sheet steel at 4.5mm (3/16") thick, others from 1008-1010 carbon steel. With the vehicle company's engineers looking for as many as 55 axle housing units within a 10 week delivery time frame, work started fast at 3-Dimensional...with only the part design provided.
For Scott Duffie, project engineer at 3-Dimensional, the axle project quickly became an all out effort, challenging both the capabilities of the staff and the capacity of the firm's technologies. "We immediately began work on the dies for producing the various stampings," says Duffie, "including the two axle halves...the upper and lower U-formed housing pieces, that measure nearly 5-1/2 feet in length with a nearly 7" depth radius draw for the differential section. As the die design and machining progressed, we turned our attention to the fixturing...the weld fixtures required to secure and accurately locate the 28 or so different pieces during the assembly process."
"The design of these fixtures, in particular, was very demanding for our welding experts. The workholding tools needed to be precise, yet highly adaptive, that is, with adjustability to fine tune holding points and pressures, to compensate for or prevent any distortion that could occur during the welding stages. Considering the die work and fixturing construction required for this project, a lot of time was spent in preparation, and with intense assembly steps to follow, ten weeks seemed doubtful. Fortunately, we made it."
Fortunately, because of the extensive number of parts, the quality checks, and the processes involved in completing the axles left open the real possibility for multiple delays. In addition to the axle halves, other stamped pieces included baffles, front and rear backing plates, rear cover, front mounting ring, strengthening gussets, numerous brake cable guides and hose brackets, harness brackets, spring seats and reinforcements, shock brackets, drain plug insert, and pipe brackets. The large upper and lower halves of the axle were formed in 3-Dimensional Services' 1,600 ton press, one of 44 presses the firm employs. The stamping operations were sped along by the use of both Kirksite and aluminum alloys for die materials. "We've tested various aluminum alloys and have found a particular one we call E-Z Cut holds up well for stamping prototype runs," Duffie remarks. "The speeds at which the aluminum can be cut, however, helps to reduce machining times by 50% or more as compared to some tool steels. Coupled with today's high speed CNC machining centers, the aluminum tooling allows us to turn out tools, and stamped parts, faster than ever before."
After the stampings were completed, some of the components, and in particular, the upper and lower housing halves, were laser trimmed using the range of 3-Dimensional Services' thirteen 5-axis laser processing systems. The laser trimming provided the accurate height of each half's axle wall that, when assemble, results in the correct I.D. for the axle shafts and differential gearing and carrier.
With the forming and laser trimming completed, the main section halves were welded together using the company's robotic welding stations, then each end of the housing was machined (bored) using one of the company's large, bridge style Awea 3-axis machining centers featuring 120" x 63" travel envelope and supplemental 2-axis rotary fixture to accommodate the press fit of the wheel hub forging that were furnished by the automaker's forging supplier. The next process was to assemble the hub forgings and weld them in place, then weld the miscellaneous brackets to the housing.
"A critical step in the welding, and a required process by the client, was to verify production intent by completing the wheel flange welding process in a single, continuous weld," notes Duffie. "To minimize tooling and equipment costs, we were able to accomplish this by using two robotic arms in unison-one generating the weld while the second controlled the rotation of the part. With this weld, in fact with all the welds, we recorded all parameters of the individual welding processes, heat, cycle, etc., to provide the car company with this data for production runs. At the same time, we had to conduct certified weld inspections in upwards of 50 locations on the assembly, with cutting, etching and measuring weld penetrations to correlate with the process data. We have on staff five certified inspectors along with a specific software program that helps identify and measure penetration depths, so these critical inspections could be completed quickly in-house."
Following the welding certification inspection, each assembly and weld integrity were further tested for leaks, with the ends plugged and pressurized air injected into the pieces under water. Quality control then went on to inspect the assembly by conducting a CMM dimensional inspection of approximately 320 points.
With quality approval of these still in-process axles, the assemblies were sent out for E-coat (one of the few processes not done in-house), then brought back to the Awea machine for final machining of the forged flange hubs, including hub diameters, bushing seal surfaces and ABS sensor mountings. After machining, a final CMM inspection was completed, again with 320 points of measurement...a total of 640 points in the two inspections of the assembly, and these in addition to inspections of all the individual components during fabrication.
"We were able to complete and ship the first pieces to the vehicle's prototype assembly and test center in the 10 week time period, "Duffie points out, "and now are in the process of completing a second run of 17 to 20 pieces, incorporating some modifications and engineering changes. We expect to ship this lot in just seven weeks. Importantly, these prototypes included full verification of their manufacturing intent and process standards, so that, if this axle design is selected for future truck models, the automaker and its future high volume suppliers will have a dynamic head start to implementing a viable manufacturing process and a successful, timely production launch. What's more, the automaker now has the production-like quality and integrity with which to gauge the functioning of these axles and to help determine their effect on overall vehicle performance."
3-Dimensional Services is part of the 3-Dimensional Services Group, also consisting of Urgent Plastic Services and Urgent Design & Manufacturing. Together, the three companies provide rapid prototype services for virtually all process disciplines including laser cutting and welding, machining, stamping, hydroforming and tube bending, injection molding, vibration welding, castings, RIM tooling, rapid modeling, high definition stamping of exotic alloys, and assembly. In the more than 16 years since its founding, 3-Dimensional Services has redefined prototyping-by condensing the time required while expanding the ability and technologies to manufacture complete, production-like prototype parts in a rapid time frame.
---