Pre-Production Assemly Tooling
Service Detail from 3 Dimensional Services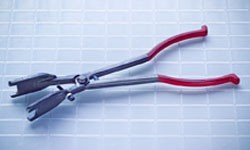 Prototype shop helps Detroit Diesel finalize pre-production engine assembly with fast turnaround of special hand tool -- fast as in before others could finish CAD drawings
For nearly 70 years, Detroit Diesel Corp. (Detroit, MI), now a subsidiary of DaimlerChrysler AG and part of the Freightliner group of companies, has been one of the world's leading producers of power train components, and a supplier to premier commercial truck, motorcoach and RV motorhomes, bus and emergency vehicle builders around the globe. Over this time period, the company has attained and maintained its leadership role by continuously developing cutting edge technologies for its product lines of diesel and alternative fuel engines, transmissions and axles. Technologies that establish performance specifications for reliability, durability, fuel efficiencies, and power that are at the forefront of the industry. Technologies that help improve mileage ratings and reduce fuel costs, that help deliver the torque to haul loads more efficiently and the technologies to be in compliance with the many different air quality standards from nations all over the world.
To keep up with these wide ranging specifications and performance standards, it may not require a whole new engine concept, but it may take numerous enhancements of engines, incorporating design modifications and the latest componentry innovations. The process frequently requires prototype parts and, of course, comprehensive testing.
And, once in awhile, as a recent example illustrates, assistance is required to complete the assembly procedures of modified engines. That, according to a company spokesperson for the rapid prototyping firm 3-Dimensional Services(Rochester Hills, MI).
"Detroit Diesel had developed the sixth generation of its electronic engine control system," said the spokesperson, "called the DDECÒ VI. This advanced system uses a more powerful microprocessor, more memory and better diagnostics capabilities than previous versions, and is capable of monitoring and managing all engine functions-including the critical 'After-treatment' systems required for 2007 emissions standards. Major components of the DDEC VI are a series of sensors installed at each of the six fuel injectors on the top of the engine head and under the valve cover that provide operational monitoring and control."
"Placing the new sensor terminals into the engine during the pre-production build stages, that is, completing engines for various testing and trials while also coordinating the necessary assembly procedures, turned out to be somewhat of a challenge."
The terminal required a male wiring plug be inserted into its female counterpart at the injector location, a position too close to the engine wall and between two valve springs that limited access for assembly by hand.
Positioning the plug in the socket was about the only thing assembly technicians could do. The process proved very difficult if not impossible to put enough pressure on the plug while securing the retaining clips to successfully engage the parts. For those few times when the plug was forced in, connector blades were frequently bent or misaligned, requiring repair or replacement. It was, as one Detroit Diesel engineer put it, an ergonomic nightmare. And, since this was only the pre-production builds, completion of most tools and assists planned for production schedules were still up to 12 weeks down the road. That's when Detroit Diesel asked for any assistance we at 3-Dimensional could provide. They also asked three to four other firms for ideas as well.
For 3-Dimensional Services, it was a somewhat unique task. According to Zalucki, the firm had provided approximately 12 prototype parts for this latest engine variant, and has worked with Detroit Diesel on numerous projects over the years. Typical prototype parts constructed included stamped support brackets and injected molded plastic brackets and harnesses for routing and securing wiring.
"In the past, we've worked with various part configurations, and virtually all types of manufacturing disciplines," the spokesperson remarks, "so coming up with a tool design was somewhat different. I presented the application specifics to our engineering team and within three days, we presented to Detroit Diesel a working sample. It was gratifying to hear that our competitors in this effort were only able to provide a CAD drawing of their proposal in this same time frame."
This first attempt by 3-Dimensional consisted of a pliers-like design with thin jaws similar to needle nose pliers. Each side had multiple step surfaces to properly locate and grasp the plug, and to depress the locking flanges. A stop pin was incorporated into the design that prevented the tool from being pressed too hard and exerting excessive pressure on the parts that could crush the terminal, plug or contact blades.
"Once Detroit Diesel verified the operation of this initial tool and provided feedback, we began the process of fine tuning and finalizing the design. Some of the modifications included making sure the tool met all of their ergonomic criteria. Examples of these are the curve of the handle, the distance between handles (to fit comfortably in the greatest percentile of hand sizes), and the force/tension required to operate the spring loaded handle grips. The first finished tool, now measuring nearly 10" long and meeting all specifications, plus with a cushioning rubber coating on the handles to improve comfort, was delivered approximately seven days after the original prototype tool. Three additional tools were completed with another week...and more may be ordered for service centers to complete warranty work in the future."
To complete the tools, 3-Dimensional Services relied upon a sampling of its production process resources, including its laser cutting capabilities, with 17 laser processing systems on hand, to cut and trim the handles from 3/8" thick durable steel, and to cut and shape the work holding jaws. The jaws were also machined to final size and form utilizing CNC machining centers, and then each jaw tip was welded to the handles. To assemble with the included spring action, the handles were drilled, tapped, and fastened. Where necessary, surfaces were hardened, ground and polished to provide a finished appearance, and the tools were given an acid bath resulting in an attractive and rust-resistant gunmetal gray color. The final process was the rubber dip to complete the handles.
The fact that 3-Dimensional Services was able to complete the tool manufacture with the same time that others needed just to develop a drawing model is no surprise, as the firm specializes in rapid prototype services with design, engineering and analysis, in-house tool construction, and complete build of first off parts and low to medium volume production runs. Their use of advanced process methods, manufacturing technologies and staff talents means prototype parts are typically provided up to 70% faster than conventional prototype shops are able to offer.
"When it came to completing the terminal insertion tools, the steps...the design, the fabrication, the working with the client...were no different than our typical prototype part procedures. We had a customer in need of assistance, and our staff answered the call. Three-day response may seem fast to most, impossible to others. It is, however, our way of doing business."
Since its founding in 1991, 3-Dimensional Services has redefined prototyping-the ability to manufacture complete, production-like prototype parts in a rapid time frame. The company, along with its subsidiaries Urgent Plastic Services and Urgent Design & Manufacturing form the 3-Dimensional Services Group and provide prototype services for virtually all process disciplines that, in addition to laser cutting and welding, includes machining, stamping, hydroforming and tube bending, vehicle frame fabrication, injection molding, vibration welding, castings, RIM tooling, rapid modeling, high definition stamping of exotic alloys, and assembly.
---