7.0" Embedded SPI Display with Cover Lens Bezel
Featured Product from 4D Systems Pty., Ltd.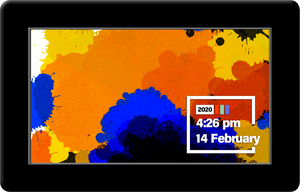 GEN4-FT813-70CTP-CLB
The gen4-FT813-70CTP-CLB display is an embedded SPI display from 4D Systems. It features a Capacitive Touch panel with Cover Glass with an integrated FTDI FT813 Video Engine.
It is a powerful SPI Display which enables a SPI host to be connected directly to the display, providing a powerful set of graphics features to the host using the on board FTDI FT81x Video Engine.
This display provides four-in-one functionality, a TFT LCD Display, Audio with amplifier enabling, Capacitive Touch screen, and an integrated Video Engine. This combination built directly into the screen allows for simple integration into a number of applications.
The FT813 Video Engine runs the FTDI version of EVE (Embedded Video Engine), which targets high quality graphics displays with Widget support, designed to offload the Host Processor and provision of a variety of graphics features.
All software support for the FT813 is provided directly from FTDI. Hardware support is provided by 4D Systems.
Learn More

Also Available in
5.0" Embedded SPI Display
4.3" Embedded SPI Display