Jiffy-Tap for Screw Tapping or Die Threading
Product Announcement from AAA Products International, Inc.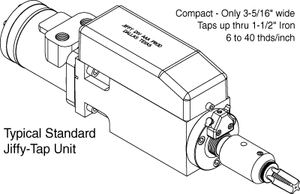 A Jiffy-Tap is the light, compact, and powerful answer to production lead screw tapping or die threading in close quarters. It will easily drive taps up through 1-1/2" N.C. size in medium cast iron with ample allowance for a dull tap. Jiffy-Tap units have a 6 HP capability, yet will mount side-by-side on 3-5/16" spacing. On special order, this can be reduced to 3-3/16". The maximum length from end of motor to end of tap chuck is less than 20". No other tapping unit can deliver the long life and high torque of the Jiffy-Tap in such a small frame.
The standard Jiffy-Tap has a stroke of 2-1/8" for taps up to 3/8" diameter. For taps up to 5/8" diameter this stroke should be reduced to 2" of stroke and 1-3/4" of stroke for tap diameters larger then 5/8". An extended stroke unit is available with 3-1/4" of stroke.
Hydraulic motor-driven, lead screw tapping or threading.
Mounts on 3-5/16" centers.
Drives up to 1-1/2" N.C. taps.
Optional quick change features available.
2-1/2" standard stroke (3-1/4" stroke optional).
Choice of motors up to 6 HP.
Standard lead screws from 6 to 40 threads per inch. (other sizes including metric are optional.)
Lead screw and motor can be changed in the field to adapt to different jobs.
Use multiple tap heads with guide rods.
Operated from a hydraulic power unit and 4-way solenoid valve.
---