ABB LonMark adapter for LonWorks connectivity
Product Announcement from ABB Drives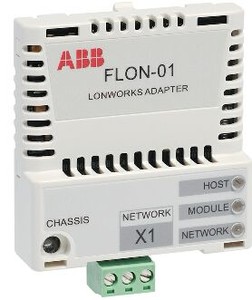 NEW BERLIN, Wis., January 8, 2009 . . . The easy-to-install option adapter mounts to the E-Clipse Bypass, allowing serial control and / or monitoring of the E-Clipse Bypass and ACH550 drive. In addition to allowing fast and simple LonWorks connectivity of the E-Clipse Bypass and ACH550 drive, the FLON-01 also supports pass-through I/O, allowing integrators to use the E-Clipse Bypass and ACH550 drive's digital and analog inputs/outputs as free I/O points in their system.

The FLON-01 is the latest of many new capabilities available with the company's E-Clipse Bypass option for the ACH550 -- capabilities focused on evolving customer and market requirements; the FLON-01 strengthens further the E-Clipse Bypass's superior serial connectivity portfolio.
Providing LonWorks connection to both the bypass and drive allows serial connection for monitoring and / or control of both bypass and drive network variables. Both the E-Clipse Bypass and ACH550 are given a unique node ID, allowing the building automation controller a network interface to the bypass, even if the ACH550 is out for maintenance or service. Integrators can take advantage of the pass-through I/O. These I/O points can be used for monitor and / or control of external devices such as dampers that may not be directly related to the E-Clipse Bypass HVAC application.
This new adapter makes the E-Clipse Bypass option for the ACH550 the first, and currently, the only VFD bypass to be LonMark product certified. LonMark's interoperability Guidelines and their related international standards define the requirements for manufacturers. The FLON-01 for the E-Clipse Bypass was designed to comply with the LonMark standards and has passed the LonMark testing certification program. This ensures for facility managers, control contractors and specifying engineers that the E-Clipse Bypass will provide fast and simple plug-and-play connectivity with other LonMark-certified devices in a system. For a listing of all ABB products that are LonMark product certified, visit the LonMark Certified Product Catalogue at http://www.lonmark.org/
ABB, Automation Products, Low-Voltage Drives, is a leading supplier to the U.S. HVAC market, and has connected tens of thousands of drives to building automation systems via serial communications. In the USA, ABB, New Berlin, Wisconsin, supplies a complete line of energy-efficient electric drives and motors to HVAC and commercial customers though an integrated channel of sales representatives. Products manufactured include AC and DC variable speed drives from fractional to 135,000 horsepower. HVAC single-motor drive applications include supply & return fans (air handlers), exhaust fans, fume hoods, re-circulation pumps, condenser fans; multiple-motor applications include multi-cell cooling towers, paralleled chilled water, and booster pump systems (http://www.abb.us/drives)
ABB (www.abb.com) is a leader in power and automation technologies that enable utility and industry customers to improve their performance while lowering environmental impact. The ABB Group of companies operates in around 100 countries and employs about 115,000 people.
For more information please contact:
Product Manager, Greg Semrow
262-785-3502 phone, 262-780-3144 fax
ABB Media Relations, Ken Graber
262-780-3873 phone, 262-785-8501 fax
---