ABB industrial drive module expands to 600 HP
Product Announcement from ABB Drives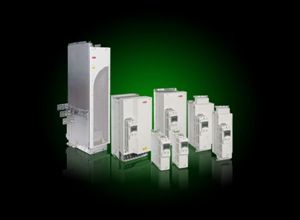 New Berlin, Wisconsin, February 5, 2010 – ABB's new drive module ACS850 is now available and UL listed up to 600 HP.
The ACS850 features on-board safe-torque-off, a removable memory block, intelligent user interface with a series of assistant wizards, a built-in energy saving calculator, and modular hardware and software. It also includes an advanced adaptation of ABB's exclusive high-performance motor-control platform, Direct Torque Control (DTC).
The ABB industrial drive modules are designed for industrial machinery and applications such as extruders, cranes, mixers, web handling and converting, in the power range 1.5 to 600 hp at 480 Vac. "The drive is targeted specifically at OEMs, panel builders and system integrators," said Thomas Junger, product manager for the ACS850. "The 10 hp drive is only 4 inches wide. The sheer quantity of drives you can fit into a cabinet is going to make the ACS850 a popular product."
Integrated safety
Safety as standard is provided by an integrated Safe Torque Off (STO) feature, which removes the torque from the motor shaft. This safety feature conforms with the requirements of SIL 3 / IEC 61508, Cat 4/EN 954-1, EN ISO 13849-1:PL e. There also are solutions available for Safe Stop 1(SS1), Safe Limited Speed (SLS), Safe Brake Control (SBC), Safe Speed Monitor (SSM) and Safe Direction (SDI).
Removable memory block
A removable memory block increases the flexibility of the drive and provides for easy maintenance. The memory block stores the complete firmware, plus all user settings and motor data. If the drive is replaced, it can be re-commissioned without any special knowledge via simply plugging the memory block into the new drive.
Moreover, the memory block allows the application software and parameter configuration changes to be made at an OEM's own assembly plant before being sent to the end-user site, just-in-time for commissioning the drive.
Intelligent user interface
The intelligent user interface with advanced assistants significantly decreases the need to refer to manuals, while saving time in commissioning:
-- Macros, predefined parameter settings for specific applications, provide for a faster startup. The settings can easily be modified, if required, to customize to your application;
-- The startup assistant guides the user through the needed parameters during the drive startup process allowing for trouble-free and fast commissioning; and
-- Several other features like short/long parameter menus, I/O mapping, and list of latest parameter changes make the use of the drive easier.
The ACS850 is engineered to work with the latest generation of ABB high-speed serial interface modules. Supported protocols include DeviceNet, Modbus RTU, Profibus, and CANopen. Before the end of 2009, the ACS850 also will support Ethernet/IP and Modbus-TCP.
Energy saving calculator
ACS850 has an automatic energy optimizer that provides for optimum drive efficiency. An on-board energy saving calculator monitors energy usage and indicates the amount of energy saved in kW hours, dollars, and tons of CO2. This tool also illustrates the duration curve, showing the load profile of the drive.
The drive's internal fan features an automatic on/off control, which provides additional energy savings by switching the cooling fan off when the drive is not active. The same on/off control can control another fan, to cool the cabinet, for example -- saving more energy, and reducing control room noise.
Maintenance and diagnostics assistants
The maintenance and diagnostics assistants help keep the process up and running and, in cases of disturbance, minimize the downtime:
-- The maintenance assistant gives an advance warning of maintenance needs of the drive, motor or related components; and
-- The diagnostics assistant helps in locating the cause of a disturbance such as overload or over current, and in restoring the process operation.
Direct Torque Control (DTC)
"The ACS850's performance at low speed and with permanent magnet motors is truly remarkable, thanks to this advanced adaptation of Direct Torque Control," said Junger. The performance and functionality of the drive module is based on the ultimate in motor control. Enhanced features include:
-- Improved performance close to zero speed without an encoder;
-- Low motor noise mode;
-- Higher output frequency, 500 Hz; and
-- Improved motor identification at standstill.
This provides excellent process control for induction and permanent magnet motors, yielding higher productivity and a high overall efficiency.
Compact and modular
These compact drive modules, with protection class IP20 (G frame IP00), are optimized for installation into cabinets. The smallest module width is only 3.7 inches. The modules can be installed side-by-side, which saves space as more drives can be placed in the same cabinet, allowing smaller cabinets.
The power cable terminals are located optimally for cabinet assembly, with line connection on the top and motor connection on the bottom up to 60 HP. Removable I/O terminals provide for easy cabling and help save time in installation.
The modularity of the product and a wide range of options, such as serial adapters, input/output extensions, and various encoder interfaces, increases the level of drive customization. The large number of standard input/output is sufficient for most applications but the modular hardware and software design provides OEMs, panel builders and system integrators with the ability to tailor a drive for a specific end-user application by only choosing the options and features required.
DriveStudio
The ACS850 uses the most up-to-date PC tool, ABB's DriveStudio. DriveStudio 1.5 has new, easy-to-use setup wizards that speed up parameter configuration during commissioning and help ensure that all the parameters related to the configuration are addressed, saving time and improving quality.
ABB, Automation Products, Low Voltage Drives, is the world's largest manufacturer of electric motors and drives. In the USA, an integrated channel of sales representatives, distributors, and system integrators allow ABB, New Berlin, Wisconsin, to supply a complete line of energy-efficient electric drives, motors and engineered drive systems to a wide range of industrial and commercial customers. Products manufactured include AC and DC variable speed drives for electric motors from 1/8th through 135,000 HP, and application-specific drive system solutions to meet diverse customer needs (http://www.abb.us/drives).
ABB (www.abb.com) is a leader in power and automation technologies that enable utility and industry customers to improve their performance while lowering environmental impact. The ABB Group of companies operates in around 100 countries and employs about 120,000 people.
For more information please contact:
ABB Group Media Relations:
Ken Graber
(New Berlin, Wisconsin)
Tel: 262-780-3873
Ken.j.graber@us.abb.com
---