ABB's new ACS350 has built in wash-down protection
Product Announcement from ABB Drives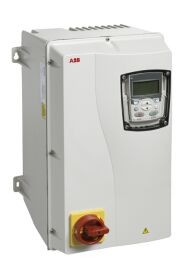 NEW BERLIN, WI, July 23, 2009 . . . The new frequency converter from ABB is designed for machine applications that require a high level of protection. Because no special enclosures and cabinets are required, the closed design speeds installation, saves money, and gets the drives into operation quickly. The ACS350 General Machinery Drive – with UL Type 4X (IP66) protection – is offered in a 0.5 to 10 Hp (0.37 to 7.5 kw) range.
"This high level of protection is suitable for indoor applications, such as screw conveyors, mixers, pumps, fans and lifts that are used in places where the machines operate in a load of dust, moisture, high-pressure washing and cleaning chemicals," said Kathleen Watson, the product manager for the series. "These applications typically occur in, but are not limited to, the food & beverage, textile, ceramics, pulp and paper industry and water / wastewater industries," she noted.
Thrives in Wash-down and High-dust Environments
The design and materials used in the drive's construction comply with current National Sanitary Foundation (NSF) standards. The drive's sleek design does not provide any nesting places for bacterial, and all components are protected from ingress of water. The control panel is designed for use in humid environments, and is protected against infiltration of dust by a plastic window; the fan is integrated into the housing of the unit. This design does not have an external fan, which reduces the chance for failure in harsh environments.
According to the company, the drives series is designed specifically for hygienic environments. The die-cast aluminum chassis of the units is painted white, and is manufactured with a cover made of fiberglass-reinforced polycarbonate. The enclosure has rounded edges for easy cleaning, and the surface shape is designed so that water drains off and away quickly. The heat sink ribs are constructed in a vertical design, so that they are freely accessible and easily can be cleaned of dust or debris. The housing is adhered to the chassis with a specially shaped seal that defends the drive against dirt deposits. Units can be wall mounted in close proximity to processing machines, and within easy reach of operating personnel.
Speed and Versatility Built In
The ACS350 UL Type 4X (IP66) offers an optional integral disconnect switch, when there is a need to isolate the motor and enable a safe working environment for maintenance and servicing. Features include:
-- Patented FlashDrop technology (fast, safe & easy parameter programming);
-- Eight (8) state Sequence Programming (PLC-like functions);
-- Control Panel for easy start up and assistance;
-- High-speed Communications, including
Modbus TCP, Ethernet IP, DeviceNet, PROFIBUS-DP, CANopen;
-- Cabinet-compatible Hardware;
-- EMC Filter; and
-- Built In Brake Chopper
High-Speed Communications and Comprehensive Control Connections
The drives have comprehensive control connections: there are two bipolar analog and five digital inputs (of which one can be configured for pulse train), and one analog, one relay and one digital output. The drives feature a totally new generation of Fieldbus, with small, enclosed, plug-in adapters that offer high-speed communications. The drives feature embedded Modbus RTU, including several small, enclosed, plug-in Fieldbus adapters, offering high- speed communications, such as DeviceNet, PROFIBUS-DP, CANopen & Ethernet IP / Modbus TCP.
ABB, Automation Products, Low Voltage Drives, is the world's largest manufacturer of electric motors and drives. In the USA, an integrated channel of sales representatives, distributors, and system integrators allow ABB, New Berlin, Wisconsin, to supply a complete line of energy-efficient electric drives, motors and engineered drive systems to a wide range of industrial and commercial customers. Products manufactured include AC and DC variable speed drives for electric motors from 1/8th through 135,000 HP, and application-specific drive system solutions to meet diverse customer needs (http://www.abb.us/drives).
ABB (www.abb.com) is a leader in power and automation technologies that enable utility and industry customers to improve their performance while lowering environmental impact. The ABB Group of companies operates in around 100 countries and employs about 120,000 people.
For more information please contact:
ACS350 Product Manager
Kathleen Watson
262-785-3228 phone
262-780-3144 fax
Kathleen.l.watson@us.abb.com
ABB Media Relations
Ken Graber
262-780-3873 phone
262-785-8501 fax
ken.j.graber@us.abb.com
---