Harley Museum for ABB's Power & Control Road Show
Product Announcement from ABB Drives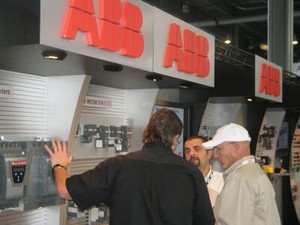 New Berlin, WI, June 15, 2010 – Hundreds of business partners and customers already are signed up for ABB's "Power & Control Roadshow," slated for the Harley-Davidson Museum here on June 22 – 23.
"The venue is a natural," according to Steven Jones, the planner and organizer of the shows -- "because many of the attendees have not had a chance to see the museum, and because Harley and ABB have had a long history of business through which ABB has provide many automation solutions."
Customer Day
The "public" portion of the two-day event, open to ABB's partners and prospects is on Wednesday. Customers attending the event, said Jones, will:
-- Learn how to reduce, significantly, the cost of design, manufacturing and testing of electrical panels;
-- Discover how to optimize machine performance with innovative automation solutions, such as drives and wireless sensor technology;
-- Learn how to reduce energy bills, by leveraging new motor drives capabilities;
-- Meet with a deep array of ABB product and solution experts;
Gain hands-on familiarity with the entire portfolio of ABB's Low Voltage Drives, Control, AC and DC Motors, and Automation and Power Distribution; and
-- Network with peers, to learn from their successes and challenges.
Technical Know-how for Customers
On Customer Day, workshops, in conjunction with a large exhibit area, offer "must-know" expertise on a host of automation-related information, ranging from UL and NEC standards, to mitigating arc flash in transformers, to harmonic mitigation in industrial environments, to sizing motors correctly for drives, to a profile of motor types, and PLC installations, and efficient, energy saving control panel designs.
The show offers visitors a close-up look at a wide berth of ABB products and services (drives, controls and systems, and motors), automation, power/transformers, medium voltage, and instrumentation solutions -- and the chance to talk with the product experts on all the lines. "The exhibits root the whole event, and provide a location that all visitors can circle back to, as they map out their day," noted Jones.
The Process Automation division of ABB, along with the Medium Voltage business unit of the Power Products division, will be on the floor with displays, too. So will the Robotics business unit, from the Discrete Automation and Motion division.
The schedule of venues and dates, along with registration link, click here.
---