New AC Drive Customized for Machine Builders
Product Announcement from ABB Drives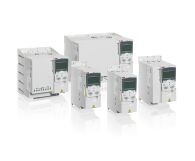 ABB introduces a new AC Drive customized for machine builders

New ACS355 - Designed to set new benchmarks in speed, simplicity and safety.

NEW BERLIN, WI, June 11, 2010 . . . Now called the ACS355 rather than ACS350, ABB has designed in additional features, to maximize the drive's effectiveness for machinery applications.

The general machinery drive is set to establish new industry benchmarks in speed and ease of installation, and operational safety. ABB general machinery drive, ACS355, is designed to meet the production and performance needs of system integrators, original equipment manufacturers (OEMs) and panel builders, as well as the requirements of end users in a broad range of applications -- from food and beverage, to material handling, lifting, textiles, packing, printing, rubber and plastics, and woodworking.

Highly compact and cost effective and with the highest power density in its class, the drive is equipped with high levels of intelligence, functionality and safety, to meet the needs of high-volume machine building and manufacturing.

The drive offers four degrees of environmental protection, starting with the standard IP20 panel-mounted chassis. For applications requiring the drive to be mounted to the wall, ABB offers an easy to install Nema 1/UL type 1 kit that can be field installed in minutes. For more demanding environmental conditions, or for wash-down applications, the IP66/UL Type 4x enclosure, or IP69K protection with factory recommended cable glands, is the perfect solution.

The drive supports control of standard AC induction motors and permanent magnet motors, providing flexibility for machine building and reducing the need for drive variants and spare parts. The drive's compact and uniform dimensions facilitate multiple drive solutions and cabinet installations, saving installation space at restricted spaces. All frame sizes share the same depth and height. Up to eight sequences of operations can be created to the drive, reducing the need for external logic components.

The "Safe Torque Off" (STO) safety function keeps the drive energized when the motor has been stopped and ensures there is no torque on the machine. Among other benefits, it provides safe machine maintenance and reduces the need for external safety components. The STO function enables machine builders to fulfill the requirements of Machinery Directive 2006/42/EC, via using the drive's safety function as part of the machine's safety system. The feature is certified by TÜV in accordance with IEC 61508 SIL3 and ISO13849-1 PL e standards.

The drive offers a wide variety of software and hardware features for a broad array of applications, including torque memory and mechanical brake control for lifting applications. The features also include pulse counting that can be used to control small-scale production lines. The drive supports plug-in type fieldbus adapters, enabling communication with the most common protocols in the automation industry.

The drive is available in one of the broadest power ranges in the machinery drives class - from 0.5 to 30hp, 0.37 to 22 kW– covering all the typical needs of machine builders with a single family of machinery drive.
Please visit our website for more information.

ABB, Automation Products, Low Voltage Drives, is the world's largest manufacturer of electric motors and drives. In the USA, an integrated channel of sales representatives, distributors, and system integrators allow ABB, New Berlin, Wisconsin, to supply a complete line of energy-efficient electric drives, motors and engineered drive systems to a wide range of industrial and commercial customers. Products manufactured include AC and DC variable speed drives for electric motors from 1/8th through 135,000 HP, and application-specific drive system solutions to meet diverse customer needs (http://www.abb.us/drives).

ABB (www.abb.com) is a leader in power and automation technologies that enable utility and industry customers to improve their performance while lowering environmental impact. The ABB Group of companies operates in around 100 countries and employs about 117,000 people.
---