Break new ground
Featured Product from ABB Electrification Products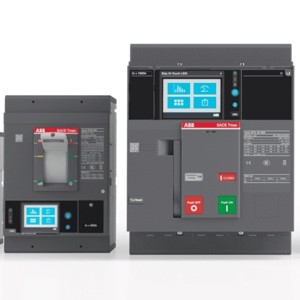 The SACE Tmax XT series of Moulded Case Circuit Breakers (MCCBs) are designed to maximize ease of use, integration and connectivity while reliably delivering safety and quality. Rather than just offering standalone protection, they are seen as key elements of the system that give you complete flexibility, extreme breaking capabilities and reliable performance under pressure. With seven different sizes and protection features of up to 1600A there's a solution for every purpose.
Key features
10 minutes to get cloud-connected
30% less time needed for installation and setting
50 additional functions to upgrade trip units through marketplace
1 user experience from 160 to 1600A
Cloud connected
To keep a system under control …
… it should be monitorable from everywhere.

Plant management of the future – SACE Tmax XT sets standards in modern plant and energy management. Access, monitor and control information remotely, anywhere, at any time. Improving efficiency and saving energy.
Tailor made
Even if the task is complex …
…the solution is simple.

Maximum flexibility for every application – SACE Tmax XT sets standards for electrical installations. Easy selection, one-fits-all accessories and intuitive design pave the way for smart manufacturing of panels and fast upgrades. Even for the most critical projects.
Outstanding technology
Meeting high-performance requirements ...
…with zero efforts.

Continuity of service and equipment protection – SACE Tmax XT sets standards when extreme breaking capacity is needed. Sharing the same logics, interfaces and features regardless of operating voltage and environmental conditions. Embedding the most advanced protection into the smallest of frames.
Top-level products
The reliability of a system …
... relies on the interplay of details.

Absolute attention to detail, with style – from design to manufacturing, SACE Tmax XT sets standards for edge technologies. Almost a century of research and experience means top-level products that are ready to face future challenges.