High-powered DC switch disconnectors
Featured Product from ABB Electrification Products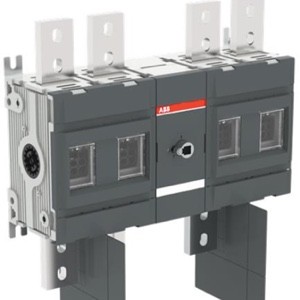 Switches for high-powered photovoltaic applications. OTDC 800...1600 A.
With the extension of the OTDC range to high currents of up to 1600 A, 1000 VDC, IEC and 1000 A, 1000 VDC, UL98B, ABB now meets the needs and demands of high-power inverters and recombiners.
High-powered applications
Large inverters require high-performing dc disconnection devices to reliably isolate
the system from the dc side. The big OTDC extends ABB's dedicated dc switch
offering up to 1600 Amperes, providing a robust switching solution for the largest
PV applications. The photovoltaic installations are designed to have a long life span.
Performance
Reliable practical performance is critical, and optimizing the critical current performance ensures reliable operation, quality and performance across all possible current levels. This results in dependable, seamless 1000 V breaking all the way from zero to 1600 A throughout the long life of the photovoltaic plant.
Next level safety
In photovoltaic applications with high voltage levels, prolonged arcing may pose a
very real fire hazard when switching the relatively low critical currents. For OTDC,
all the critical currents have been carefully charted and eliminated and the operation
has been verified. The practical safety of personnel and equipment is taken to
the next level.