Measurement Systems
Featured Product from ABTech, Inc.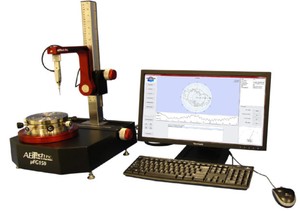 We offer a comprehensive line of ultra-precision air bearing-based roundness gages, as well as a variety of Dimensional measurement gages. Designed, manufactured, and tested in-house, each gage provides the highest accuracy, repeatability and reliability. Our control software and user interfaces maximize ease of use and simplify training allowing you to achieve the highest level of operator productivity and flexibility, and the lowest cost of operation. Our standard Roundness gage models measure parts up to 32 inches in diameter and 2,000 lbs in weight. And to meet your needs for larger and heavier parts, our team is skilled at developing custom configurations. Our gages are ideal for measurement and assembly applications ranging from ball bearings, infrared and precision optics, automotive and aerospace.
Microform Roundness Gages
We have a full line of air bearing based roundness gages for checking roundness, runout, flatness, concentricity, parallelism, and perpendicularity. With our commitment to simplistic precision we developed an easy to use and intuitive front-end software package and robust mechanical platform resulting in the best value on the market. Our standard roundness gage models measure parts up to 32 inches in diameter and 2,000 lbs in weight.
Don't need a full roundness gage? ABTech offers a full line of total indicator reading gages for quick measurements of TIR on OD's, ID's and faces of precision cylindrical parts. Using the same air bearing rotary tables, tilt and center tables and gage stands as our roundness gage product line, our standard gages measure parts up to 32 inches in diameter and 2,000 lbs in weight.
Diameter Measurement Gage
Do you need to check the size of your large turned parts while still on the lathe, grinder or other machine center? ABTech's precision diameter measurement gage is designed for measuring large diameter parts in process to 0.001" system accuracy. Our touch pad user interface and software front end package is simple to use and intuitive. Our standard receiver mount fits Aloris C5 Capto tool holders with custom mount available.
Thickness Gages
Do you need to measure thickness of your lens or precision ground or lapped parts to better than /- 20 micro inches? We offer a variety of thickness gages with single or dual probe options. Custom fixtures and sizes available on request.
Setting Master
ABTech offers a setting master using a natural granite base and air bearing slide for set up of ID/OD beam gages such as Federal Products Series 980. Standard position accuracy of /- 0.00024" over 80" of travel with the ability to compensate for tighter accuracy if needed. Vertical carriage assemblies have 6" travel with 50 microinch resolution scales.