Turbine Engine Assembly Systems
Featured Product from ABTech, Inc.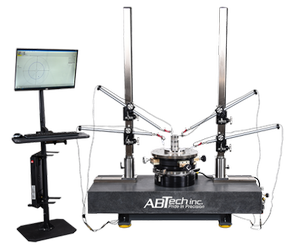 Our Engine Assembly Systems with the Genspect Stack Projection Software System© developed by General Electric© help manufacturers and maintenance organizations increase productivity by integrating turbine engine stack projection capabilities within the production and overhaul process. Stack projection can streamline production while increasing the life and value of a key aviation industry asset. Genspect combined with our ultra-precision hardware platform and focus on simplifying usability and training has resulted in ABTech systems playing a key role in GE's LEAP and GE9X engine projects. See how we can assist your turbine engine manufacturing and maintenance process.
Engine Assembly Systems (EAS) for GE Engines
EAS Systems provide engine stack projection capabilities for high pressure compressor and turbine (HPCR and HPTR) builds. Also referred to as stack prediction, these systems allow operators to quickly and accurately measure individual turbine engine parts and precisely align component stacks the first time, ensuring the least amount of runout.
System form parameters include roundness, concentricity, perpendicularity, parallelism, and flatness. Overall system accuracy is under 5.0 millionths of an inch (5.0 µ" or 0.125 micron).
MicroTIR Plus Gages
Our TIR gages are versatile enough to measure a wide array of parts including in-process shop floor TIR measurements of shafts, gears, pistons, bearings, jet engine components, turbocharger and other precision machined or stamped parts. Each gage is also ideally suited to handle incoming part inspection for vendor compliance, optical lens inspection, alignment and assembly applications, and manufacturing process control. You can even make on-machine measurements although for best results and to avoid errors from your machine's axis, we recommend measuring from a qualified axis or surface.