5-Axis Air Bearing Optical Measurement Platform
Featured Product from ABTech, Inc.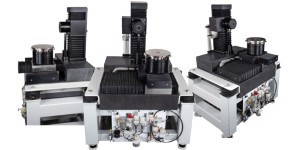 ABTech Inc.
When a leading manufacturer of CNC optical manufacturing technology needed ultra-accurate and stable positioning for a new system for measurement of conformal optics, it turned to ABTech Manufacturing Inc, specializing in custom-made ultra-precision air bearings and motion systems. To meet tighter customer specifications for positioning resolution, it found the solution, as usual, in new high-resolution linear and rotary optical encoders from Renishaw. The Fitzwilliam, New Hampshire company created a five-axis optical measurement platform featuring three ABTech linear air bearings, two ABTech rotary air bearings, and Renishaw's ultra-high accuracy SiGNUM™ series linear and rotary encoders.
'This was a joint development project with our customer', said Ken Abbott, ABTech's president. 'They developed the concept, controller and software, while ABTech designed and built the mechanical system - the multi-axis air bearing platform'. In operation, a lens is placed on a high-precision B-axis rotary table for measurement by a non-contact confocal imaging probe mounted horizontally on a rotary C-axis air bearing. Confocal imaging performs microtopographic mapping of the lens geometry and surface. The system requires that the confocal probe be positioned normal (perpendicular) to each surface point to be measured. The platform created by ABTech accomplishes the exacting repositioning by coordinated motion in up to five axes. The next-generation CNC optics inspection systems require position resolution of 5 nm for the three linear axes.
ABTech air-bearing technologies are used around the world in research facilities, universities and advanced manufacturing operations. The low-profile designs, combining magnetically preloaded carriages with ultra-precision slides, are ideal for optical production, bio-medical, diamond turning, wafer scanning systems, lithography, computer-to-plate systems, measurement systems and vision system positioning stages.
For more information on ABTech custom air bearings and motion platform capabilities, visit: www.abtechmfg.com