Air bearing linear stages address motion needs
Featured Product from ABTech, Inc.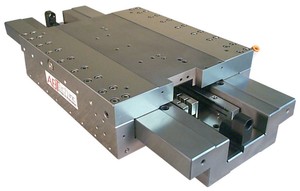 ABTech's precision air bearing linear stages address the motion needs for a full range of part sizes and weights. Built for the most demanding applications, every stage provides ultra-smooth motion, sub-micron accuracy and absolute repeatability. Designed and manufactured in-house to extremely tight geometric tolerances, air bearings have no mechanical contacting parts to wear or create drag. This affords forgiveness from minor accidental touch downs that may result from low air pressure, excessive loading, or operator error.
Our linear stages come standard with dual element filter/regulators and are commonly used as the core axis in a wide range of applications where smooth and repeatable motion is desired. They are ideal as stand-alone units and/or multi-axis assemblies, for position measurements, optical scanning, light machining and grinding, and more.
ABTech's quality, accuracy, and design flexibility are the reasons our air bearings are meeting the ultra-precision motion demands.
Precision motion comes in many forms and applications, each with their own set of pertinent specifications. Diversity in today's applications creates unique requirements, we provide configura¬tion flexibility as an integral part to our design philosophy. All linear stages can be customized with a variety of options and accessories including motor drives, vacuum carriage top, high-resolution optical encoders, digital readout (DRO) displays, inspection-grade granite surface plates and more.
In addition to the options and accessories, the material selection of linear stages is a key focus of our applications engineers. For harsher environments, best accuracy, precision and stability we use hardened stainless-steel air bearing components. If your application requires quick motion with high acceleration and deceleration, we can utilize the weight reduction of hardcoated aluminum construction. Our precision motion experts will work closely with you to configure a linear motion solution that will meet your exact needs.