Custom Designed Solutions
Service Detail from ABTech, Inc.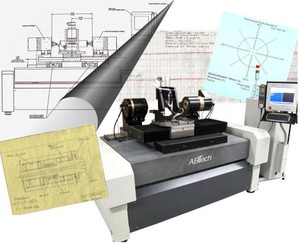 Custom Designed Solutions
ABTech is committed to providing the highest level of customer support. This starts from your first contact and extends through the entire product life cycle. With expertise in every facet from the component level to building sophisticated turnkey assembly systems, we understand every aspect of precision applications that require tight geometric tolerances. Our custom metrology gages, air bearing rotary tables, and turnkey multi-axis systems are designed, engineered, and manufactured entirely in-house, giving our customers flexibility at every stage from concept through delivery. And unlike our larger competitors, we devote the time and attention to identify the ideal solution for every customer need.
Precision Motion Components
ABTech offers a variety of precision air bearing, oil hydrostatic, and mechanical bearing rotary tables, linear slides, high speed spindles, and many multi axis combinations for the most demanding precision motion applications. With 20 plus years of being in business we have built an impressive portfolio of some of the highest accuracy precision motion components available. Our approach of simplistic precision and willingness to customize makes us the vendor of choice for your OEM motion needs. We will work with your engineering group to correctly and cost effectively match your application to the most appropriate product even if that means customization.
Measurement Systems
We offer a comprehensive line of ultra-precision air bearing-based roundness gages, as well as a variety of Dimensional measurement gages. Designed, manufactured, and tested in-house, each gage provides the highest accuracy, repeatability and reliability. Our control software and user interfaces maximize ease of use and simplify training allowing you to achieve the highest level of operator productivity and flexibility, and the lowest cost of operation. Our standard Roundness gage models measure parts up to 32 inches in diameter and 2,000 lbs in weight. And to meet your needs for larger and heavier parts, our team is skilled at developing custom configurations. Our gages are ideal for measurement and assembly applications ranging from ball bearings, infrared and precision optics, automotive and aerospace.
Turbine Engine Assembly Systems
Our Engine Assembly Systems with the Genspect Stack Projection Software System© developed by General Electric© help manufacturers and maintenance organizations increase productivity by integrating turbine engine stack projection capabilities within the production and overhaul process. Stack projection can streamline production while increasing the life and value of a key aviation industry asset. Genspect combined with our ultra-precision hardware platform and focus on simplifying usability and training has resulted in ABTech systems playing a key role in GE's LEAP and GE9X engine projects. See how we can assist your turbine engine manufacturing and maintenance process.