ABX Expands Production to 75,000 square feet
Service Detail from ABX Engineering, Inc.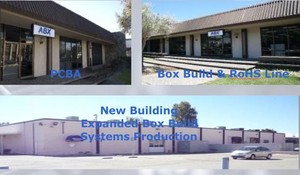 ABX has purchased a new building and is implementing plans for further expansion and specialization of production capabilities. The new building, purchased earlier this year, will add approximately 45,000 square feet of additional production space. The new building provides an expansive 35,000 square feet of open production floor space, 20 ft ceilings and semi-truck loading docks. Construction is underway and the new facility is scheduled to open in Spring 2012, increasing ABX total production space up to 75,000 square feet. ABX is a leading CM in producing higher technology products, from circuit boards to complete turn key systems manufacturing for industries including medical, broadcast, commercial, industrial, research and others.
ABX Engineering is a full service electronic contract manufacturer offering quality products and service to fit your needs. Our flexibility and over 25 years of experience allow us to respond to unique customer needs with speed and accuracy; and this has earned us a valued name. We pride ourselves as a leader in ISO 9001-2000 full turn key electronics manufacturing.
Services include, but are not limited to
PTH and SMT High Mix PCB Assemblies
Box Build Assemblies
Cable/Harness Assemblies
Depot Repair
Order Fulfillment
BGA Assembly and X-Ray Rework
RoHS (Lead-free) Manufacturing since 2000
ISO-9001-2008
ITAR
At ABX our size, experience, expert staff and state of the art equipment, enable us to respond to unique customer demands with flexibility, speed and accuracy at competitive pricing. The quality of our services and products we produce has earned us a valued name and we pride ourselves as a leader in Full Turn Key Electronics Manufacturing Services. We are commited to provide our customers with the most cost effective turn-key production solutions.
For more information, visit our website at www.abxengineering.com
---