Automatic Industrial Strainers for Removing Solids
Product Announcement from ACME Engineering Products, Inc.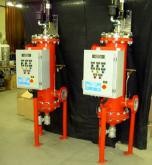 The ACME Automatic Scraper Strainer has been designed to remove solids from 150mm in size down to 75 micron particles.
These strainers are available with connections from 1" up to 36" in fabricated carbon steel, stainless steel and various alloys such as Alloy 20 and monel. All internal components, including the wedgewire screen are constructed of SS316L for durability and longevity. Special designs are available for viscous fluids, suction-side installations and jacketed vessels. All strainers are fabricated to the exact design requirements of each client and are still cost-competitive with cast-vessel backwash strainers from ACME's main competitors. As of June 2007, ACRS strainers can now be ordered with FRP vessels for maximum corrosion resistance in seawater or process applications.
Download the ACME ACRS Sizing handout that shows typical flow rates for ACME Scraper Strainers, in Imperial and Metric measurements.
Features:
Removes large and small particles
Fabricated strainer in any metal
Connection arrangements to suit any application requirements
Self adjusting scraper-strainer action
Does not use backwash system or clean water for contaminant removal
Automatic operation, self-cleaning with practically no maintenance
ASME section VIII, Div. 1, code stamped, available
Typical Applications:
River and lake water intakes
Cooling tower water
Cooling water to power plants and chemical processes
Wastewater from textile mills, laundries, and other contaminated effluents
Heavy slurries from power plants
White water to paper machine showers
Water to spraying systems
Black liquor to burners
Download Industrial Applications for ACME Scraper Strainers.
The ACME Automatic Scraper-Strainers are supplied with a control system suitable for the application and incorporating the flexibility of field adjustments.
Learn more about the design advantages offered by the ACME scraper strainer as compared to several common backlash design.
Download a presentation highlighting recent contracts sold in the Middle Eastern marketplace.
---