Wireless Gas Detection System for IAQ Control
Product Announcement from ACME Engineering Products, Inc.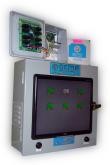 Scalable system using Wireless Sensor-Transmitters communicating with a central Control Panel as well as Remote Wireless Relay Modules to operate ventilation equipment & Remote Alarms.
Features:
FCC/IC/ETSI/CE approved RF modules for up to 256 remote sensor-transmitters & up to 96 Remote Relay Modules.
Minimal installation cost - virtually no field wiring required.
Continuous 2 year Battery-powered sensor operation with self diagnostics. Sensors are also available for 24V AC operation.
Relay outputs from the Control Panel or from Remote Wireless Relay Modules.
"Plug-and-play".
Applications:
Energy savings through the intermittent operation of ventilation equipment in enclosed facilities.
Suitable for garages, tunnels, warehouses and other enclosed commercial locations where a hazardous build-up of gases may occur.
Ideal for retrofit of existing buildings to improve safety and conserve energy.
Designed for multiple stage projects.
Learn more about the CEW(LS) Wireless Gas Detection System.
---