ACME's Refrigerant Leak Detector with 2 alarms
Product Announcement from ACME Engineering Products, Inc.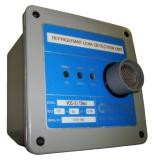 Refrigerant leak detector with two dry contacts and audible and visual alarms.
The VOC-3 detector is designed for enclosed spaces or mechanical rooms where refrigerant leaks from chillers could pose a danger to personnel. This detector can cover up to 10,000 sq. ft. of clear, open space. It is designed to operate two-speed fans using two dry contacts that close at the appropriate low and high concentration levels for the refrigerant gas being detected. Refrigerants detected include R-11, R-12, R-22, R-62, R-113, R-502 and R-134a.
It also includes visual indicators on the front of the unit for low and high level with an audible alarm at the high level. The VOC-3 is constructed of heavy, damage-resistant PVC with vandal-proof screws. Units are available with integral (standard) or remote (optional) sensor heads.
Typical installations include mechanical rooms and personnel lounges in industrial buildings.
Click here to download specs and learn more about ACME's Refrigerant Leak Detector.
---