Bonded and Dry Film Lubrication on Most Metals
Featured Product from ADELHELM LubriCoat NA LLC.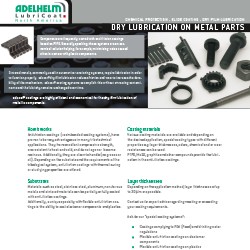 Adelhelm LubriCoat NA professionally applies dry film lubrication coatings (Xylan®, Molykote®, Ilag, Teflon®, Fuchs, Henkel), onto metal parts. The coating is long lasting and eliminates the use of grease or other external lubricants. This saves money and keeps the work environment clean.
Different internal lubricants such as PTFE, M0S2, Graphite (or a combination thereof) can be chosen to meet the challenges faced during use conditions. The coatings also reduce or eliminate stick / slip, with a dynamic coefficient of friction values as low as 0.06 dynamic and 0.10 static.
Depending on the parts size and the "must coat" areas, the application method will be chosen. These range for hand spray, machine sprayed (cylindrical parts), dip spin, dipping or even with tumble spray.