Coated O-Rings and Seals with PTFE or Silicone
Featured Product from ADELHELM LubriCoat NA LLC.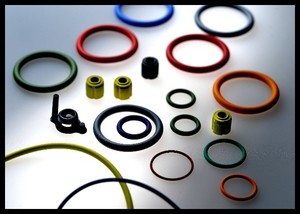 Adelhelm LubriCoat NA has developed and uses Plasma-Bond Technology when coating both elastomer and plastic parts with dry film coatings. The latest developments in dry-lubrication combined with modern application techniques and skilled and motivated application engineers, provides reliable coatings based on PTFE, Silicone and Nanocomposites on various elastomers, i.e. EPDM/ NBR/ HNBR/ VAC and Viton.
Adelhelm LubriCoat relies on global coating suppliers such as Klüber, Fuchs, Momentive and Whitford. Depending on the end application, these coatings provide ease of incursion, chemical resistance, color or food approval.
Due to the Plasma-Bond Technology, these coatings are nearly permanent and will not flake or be removed from the seal, even after a 150% elongation.