Dry Film Lubrication on Plastics
Featured Product from ADELHELM LubriCoat NA LLC.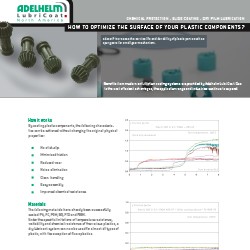 Adelhelm LubriCoat NA is specialized in applying bonded dry film lubrication to a wide variety of both thermoplastic and thermoset plastics. Improved installation and repeatability during use are the key reasons for this growing acceptance. Plastics such as POM, PEEK, PE, PP, PC, PA, etc., can all be coated, especially with the use of our Plasma-Bond Technology.
Coating thicknesses are normally between 5 to 7 thou and can be coated in specific needed areas or best over the entire parts in a mass production process.
Ask for a quote or for further technical information from our technical team-