Dry Film Lubricaton on Armatures and Plungers
Featured Product from ADELHELM LubriCoat NA LLC.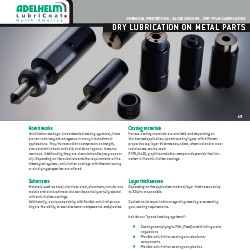 Adelhelm LubriCoat NA works with all coating material manufactures (Molykote, Xylan, Henkel, Fuchs) to find the best dry lubricant products for solenoid armatures and plungers. Although PTFE coatings are often requested, MoS2 and graphite products used, depending on the end use.
We offer all application techniques and only use raw materials from experienced and reputable suppliers. In many areas, dry lubrication coatings are more effective and durable than conventional coatings. These bonded coatings are suspensions of finely divided solid lubricants such as, MoS2, PTFE or dissolved graphite.
Your advantage: They often enable maintenance-free permanent lubrication. They ensure material separation even in critical states of movement. They do not age and do not bind or retain sand or dirt.