First Quad Core i3 Value Processor on COM Express
Featured Product from ADLINK Technology Inc.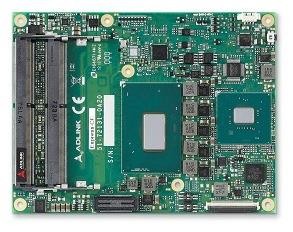 ADLINK, a leading global provider of advanced embedded modules, announces the addition of the quad-core Intel® Core™ i3-8100H processor to its recently released Express-CF COM Express Basic size Type 6 module based on the 8th Generation Intel® Core™ i5/i7 and Xeon® processors (formerly Coffee Lake).
Whereas previous generations Intel® Core™ i3 processors supported only dual cores with 3MB cache, the Intel® Core™ i3-8100H is the first in its class to support 4 CPU cores with 6MB of cache. This major upgrade results in a more than 80% performance boost in MIPS (million instructions per second), and an almost doubling of memory/caching bandwidth, all at no significant cost increase compared to earlier generations.
Environmental Responsibility
ADLINK is committed to fulfill its social responsibility to global environmental preservation through compliance with the European Union's Restriction of Hazardous Substances(RoHS) directive, which restricts the use of harmful substances such as lead, mercury and
cadmium in new equipment.