Two New CompactPCI® 2.0 Processor Blades
Featured Product from ADLINK Technology Inc.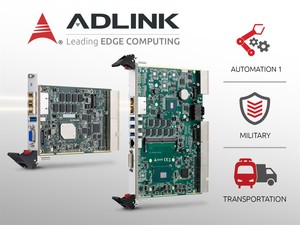 Two New CompactPCI® 2.0 Processor Blades Powered by Latest Intel® Xeon®, Core™ and Atom® Processors. ADLINK Technology, a global provider of leading Edge Computing solutions that drive data-to-decision applications across industries, today released two new CompactPCI® 2.0 processor blades, the cPCI-3630 and cPCI-6636.
ADLINK's cPCI-3630 is a 3U CompactPCI processor blade featuring the 64-bit Intel Atom® Processor X Series SoC (formerly Apollo Lake-I) and up to 8GB soldered DDR3L-1600 MHz ECC memory. The Intel Atom® Processor X Series integrates the low-power 9th generation graphics engine and provides excellent graphics, media and display support. Available in single-slot (4HP) or dual-slot (8HP) width form factors, the cPCI-3630 utilizes various daughter boards to provide a broad range of I/O functionality. One of the dual-slot variants supports an XMC site on layer 2. Storage options include an onboard 32GB SSD, CFast or mSATA socket and 2.5" SATA drive space on the layer 2 riser card.
Environmental Responsibility
ADLINK is committed to fulfill its social responsibility to global environmental preservation through compliance with the European Union's Restriction of Hazardous Substances(RoHS) directive, which restricts the use of harmful substances such as lead, mercury and
cadmium in new equipment.