30-year-old metal roof is brought back to life
Product Announcement from AGC Chemicals Americas, Inc.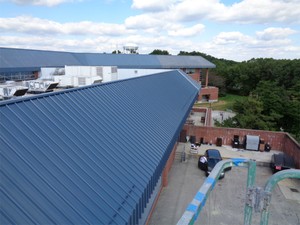 Baked-On Coating Degradation Results In Lumiflon Roof Restoration
Metal roofs are common amongst commercial buildings, for their durability and perceived long life cycles. While these roofs may never need replacement, the baked-on PVDF coatings degrade within a matter of years, exposing the bare metal underneath, resulting in red rust corrosion that can permanently damage the substrate.
For the roof restoration of this Baltimore, Maryland based office building; All-Tech Coatings was contacted for their expertise in recoating. To achieve a factory-like finish that can provide years of service with low wear, All-Tech Coatings applied a coating system that uses PPG's Coraflon ADS that include Lumiflon FEVE fluoropolymer resins.
Over 130,000 square feet of metal roof panels were severely damaged from 30 years of exposure, with little to no upkeep. All-Tech contractors stripped the previous coating and prepared the surface to SSPC-SP6 commercial blast cleaning standards. The panels then received two coats of epoxy at 1.0 mil DFT (dry film thickness), followed by a finish coat of Coraflon ADS in Slate Blue, at 1.5-2.0 mil DFT.
This coating system benefits the office-building roof, not only for its factory-like finish, but also for its proven longevity and durability. Lumiflon FEVE resin based coatings have been used on a myriad of restoration projects, from industrial waterworks and infrastructure, to high-rise architecture and even private residences. These coatings have been proven to provide long lasting color and gloss retention, with low-wear characteristics, that can potentially last as long as the buildings on which they are applied.
LUMIFLON®, a product of the Asahi Glass Company, is a fluoropolymer resin that offers distinct advantages to the architectural market. LUMIFLON® provides architects with the option of using brighter colors and higher gloss, allowing gloss values as high as 90; offers the flexibility to be heat cured or cured at ambient temperature, giving fabricators a choice between shop application or application in the field; and can be used successfully on a number of materials, including steel, aluminum, fiberglass, concrete and polycarbonate for 30 years without fading
Watch>>>AGC Chemicals Product Overview
About AGC Chemicals Americas Inc.
AGC Chemicals Americas Inc. is a wholly owned subsidiary of Asahi Glass Company Ltd., a $13 billion multinational corporation and one of the world's largest manufacturers of glass, electronic displays and chemical products. The company was formed in 2004 through the merging of sister companies Asahi Glass Fluoropolymers USA and AGA Chemicals. Headquartered in Exton, Pa., AGC Chemicals Americas maintains manufacturing operations in nearby Thorndale, Pa., and warehouses located throughout North America. www.agcchem.com
---