Bring Your Ideas to Life with Specialized Testing
Service Detail from AGC Chemicals Americas, Inc.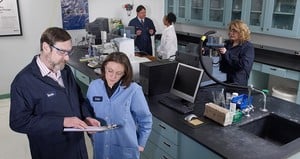 AGC's Commitment to Quality: Bringing Your Ideas to Life Through Specialized Testing Services
As a leading global supplier of fluorochemicals and materials, AGC is committed to upholding the highest quality standards across all of our product lines. But you need to consider more than just quality when selecting a product to add to your formulation. You also need to ensure that it's the right fit for the application. That's why AGC offers our customers and prospective customers access to our innovative specialized testing labs for product development and testing.
When you work with AGC, you get access to a network of experts using high-quality advanced material science. Our technology center, located in Exton, Pennsylvania, provides:
Application and product development
Technical service
Physical testing
Analytical testing
Environmental studies
Material identification
In addition, we offer three specialized testing centers dedicated to our fluoroelastomer, fluorinated water/oil repellent, chlor-alkali and FEVE resin product lines. Through these specialized labs, we partner with our clients to build the right solution for their application's needs.
Follow us on:
Watch>>>AGC Group Overview
ABOUT AGC CHEMICALS AMERICAS
For almost a century, AGC Chemicals has been manufacturing high-performance materials serving industrial customers. Already the world's largest, longstanding custom compounder of PTFE and other fluoropolymer resins, AGC continues to build its product line with the introduction of FFKM resins that meet the growing demand for tougher, more durable products for today's production and manufacturing environments.