AFLAS 600X Excels in Offshore Environments
Featured Product from AGC Chemicals Americas, Inc.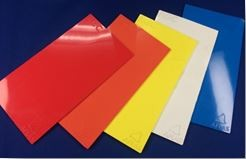 New AFLAS® 600X Grade Cures Faster with Better Mold Release and Excels in Offshore Environments
GC Chemicals Americas Inc. will introduce its AFLAS® 600X fluoroelastomergrade at the Offshore Technology Conference May 1?4 in Houston, Texas, at Booth 4079. AFLAS 600X is a tetrafluoroethylene propylene (FEPM) material that offers performance and processing advantages over BRE, FKMs and other AFLAS grades, making it ideal for molded products like durable packers, bladders, gaskets and O-rings.
Products made of AFLAS 600X last longer in the wet, high-pressure, amine- and base-rich environments of oil and gas recovery, and they do not deteriorate under prolonged exposure at 230 °C. In addition, the parts exhibit excellent electrical and thermal resistance.
AFLAS 600X also exhibits processing advantages over conventional FKMs and other AFLAS grades including superior mold release, higher cross-linking ability, improved compression set, and a faster cure speed (4-10 hour post cure). AFLAS 600X does not require specific peroxides and is a white polymer material that can be easily colored.
Additional AFLAS Fluoroelastomers for Oil and Gas Applications
In addition to introducing AFLAS 600X, AGC will also feature AFLAS PM-3000, pre-compounds and AFLAS 200P at OTC 2017.
AFLAS® PM-3000 exceeds the performance characteristics of the FKM and HNBR families of elastomers now commonly used in many oil and gas industry applications. Components made from AFLAS PM-3000 peroxide-curable perfluoroelastomers (FFKMs) provide superior resistance to the high temperatures, pressures and aggressive and multi-phase chemicals used in oil and gas recovery. AFLAS PM-3000 imparts a continuous service temperature of 250 °C, with peak exposure to 270 °C.
AFLAS CP-4000 is a new peroxide-curable perfluoroelastomer pre-compound in the AFLAS FFKM series that offers outstanding resistance to chemicals, oils, solvents and extreme heat. It also provides exceptional compression set, mechanical strength, processability and high resistance to rapid gas decompression. It has a service temperature of 280 °C, with peak exposure of 300 °C.
AFLAS CB-046, based on AFLAS CP-4000, is a peroxide-curable FFKM formulated pre-compound that does not require any additional filler. It offers the same superior material features and end-user benefits as CP-4000, including service temperature at 280 °C, with peak exposure of 300 °C.
AFLAS CB-047 is based on AFLAS PM-3000 and provides medium temperature rating from 260 °C up to 280 °C. Along with CB-046, it has chemical resistance to hydrocarbons, various oils and amines, acids and alkalis, and other caustic fluids with very low swell even in longer-term exposures.
AFLAS 200P, a peroxide-curable specialty FKM, performs better than conventional FKM-type fluoroelastomers and improves cold-temperature performance, which is important because exposure to cold air temperatures can potentially cause hardening, cracking and failure and fluid leakage from a gasket or O-ring.
Watch>>>AGC Chemicals Americas, Inc. Corporate Overview
About AGC Chemicals Americas, Inc.
AGC Chemicals Americas, Inc., is a wholly owned subsidiary of the Asahi Glass family, a $13 billion multinational corporation and one of the world's largest manufacturers of glass, electronic displays and chemical products. The Company was formed in January 2004 through a merger between sister companies Asahi Glass Fluoropolymers USA and AGA Chemicals. It is one of more than 10 of Asahi's major subsidiaries in North America grouped under the holding company of AGC America.
AGC Chemicals Americas manufactures, markets and sells high-quality fluoroproducts including Fluon® fluoropolymer resins and compounds, AFLAS® Fluoroelastomers and AsahiKlin fluorinated solvents. Our Company also markets and sells specialty chemicals including LUMIFLON® FEVE resins, Asahi Guard E-SERIES water and oil repellants, F-CLEAN® greenhouse films, Solesphere fine silica additives, and various fluoro intermediates.
Headquartered in Exton, PA, where we offer full laboratory and product development services, AGC Chemicals America maintains manufacturing operations in Thorndale, PA, and warehouses located throughout North America. With a corporate vision to "Look Beyond," we will continue to anticipate new global requirements and create value for our customers by remaining on the cutting edge of technology and customer service.