High-performance fluorine-based plastic film.
Featured Product from AGC Chemicals Americas, Inc.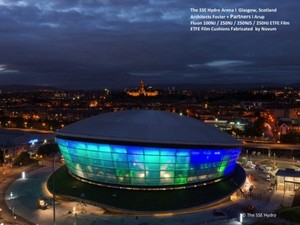 Creating Beauty Through Innovation
That's the AGC way. By incorporating our innovative Fluon® ETFE Film into architectural facades not only creates iconic structures of beauty but also revolutionizes the building industry due to its unique features such as light transmission and solar heat options, self-cleaning, anti-stick surface and ultra-weatherability. The mechanical strength of our film allows it to replace glass as a viable alternative resulting in a flexible, light weight structure that is non-combustible and provides heat, chemical and UV resistance. AGC uses our own in-house monomer to create the polymer film which gives the architect or fabricator flexibility in choosing thickness and finishes.
And that's a beautiful thing.
Fluon® ETFE Film
ETFE filmFluon® ethylene tetrafluoroethylene (ETFE) is a high-performance fluorine-based plastic film. Fluoropolymer films are used around the world because they exhibit exceptional transparency, antifouling properties and durability.
ETFE film is ideal for a wide variety of applications ranging from solar cells to architectural facades. Its performance benefits include:
Despite being lighter than glass, Fluon ETFE Film will not easily rip or scratch over time, even in the harshest environments. The film has a high tensile elongation (200 - 510) and tear strength, as well as a thermal melting point of 260°C and a linear thermal expansion coefficient of 9.4.
Fluon ETFE Film is available in various thicknesses and finishes ranging from 12µm to 250µm and with light transmission options of over 90%.
Release film for electronics
Fluon ETFE film is also used as a release film for electronics since it retains exceptional releasability and moderate cushioning at high temperatures. Almost no additives or plasticizers are used other than ETFE, so it will not contaminate products or devices. It can also be applied using either side interchangeably.
Features:
Withstands temperatures up to 200 °C
Light transmission is higher than 90%
Chemical and soil resistant
Easily cleaned simply by wiping surface
Superior tear strength
Absorbs noise
Non-sticking
Long-term weatherabilty
Nonflammable
Applications:
Release film for electronics fabrication and RFP
Protective film for solar cells and noise absorbers
Roofing and architectural facades
Interior finishing
Lamination film for wallpaper
Fluon® ETFE Film Data Sheet for Solar Applications
Fluon ETFE Film sales brochure
High-performance Materials used for Innovative World-Class Projects
Watch>>>AGC Chemicals Americas, Inc. Corporate Overview
ABOUT AGC CHEMICALS AMERICAS
For almost a century, AGC Chemicals has been manufacturing high-performance materials serving industrial customers. Already the world's largest, longstanding custom compounder of PTFE and other fluoropolymer resins, AGC continues to build its product line with the introduction of FFKM resins that meet the growing demand for tougher, more durable products for today's production and manufacturing environments.