Silica Products for a Variety of Applications
Featured Product from AGC Chemicals Americas, Inc.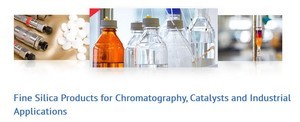 Fine Silica Products for Chromatography, Catalysts and Industrial Applications
Sunspera™:
Precisely designed pore structure, spherical shapes and size distribution
Improved morphology of finished polymers
Optimizes production
Narrow particle distribution and no fine particles
SUNSPERA™
SUNSPERA™ silica is used as a catalyst support in the manufacture of polyethylene and polypropylene , playing a more important role than simply as a carrier for a catalyst compound. The properties of the silica gel have a significant effect on both the polymerization process and properties of the finished polymer. The pore structure, spherical shape and particle distribution of SUNPSERA™ for catalyst support are precisely defined. Using SUNSPERA™ gives improved finished polymer resin by increasing the bulk density and also ensures enhanced productivity. SUNSPERA™ is available in average particle diameters from 3µm to 100µm to suit any application. Surface areas are available from 40 – 800 m2/g. The ability to select the sphere size, pore size, and spherical structure of this fine silica product makes it possible to provide long lasting physiochemical-specific characteristics to specific media.
Sunlovely™:
Ultra-thin scaly silica particles with high transparency
Primary particle is less than 0.1 μm
Odorless, harmless
High chemical stability
Two forms: powder and slurry dispersed in water
SUNLOVELY™
SUNLOVELY™ consists of functional fine particles that are microscopic secondary particles formed by nano-sized ultra-thin silicon dioxide (SiO2) fine particles, overlapping in parallel or tertiary particles formed by three-way cohesion of the secondary particles. Applications for SUNLOVELY range from a filler for polymeric resins and inorganic coatings to heat and chemical resistant paint materials.
Watch>>>AGC Group Overview
ABOUT AGC CHEMICALS AMERICAS
For almost a century, AGC Chemicals has been manufacturing high-performance materials serving industrial customers. Already the world's largest, longstanding custom compounder of PTFE and other fluoropolymer resins, AGC continues to build its product line with the introduction of FFKM resins that meet the growing demand for tougher, more durable products for today's production and manufacturing environments.