Battery Operated Active Monopole Antenna
Featured Product from A.H. Systems Inc.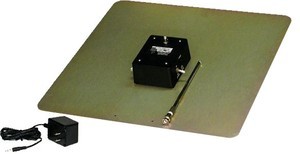 Active Monopole Antenna SAS-550-1B
A.H. Systems Active Monopole Antenna is an active, general-purpose, broadband monopole antenna.
Features
9 KHz to 60 MHz
Individually Calibrated
FCC, MIL-STD, VDE and TEMPEST Testing
Rugged Construction
Three Year Warranty
A.H. Systems' Active Monopole Antenna provides superior performance in electric field measurements. The Active Monopole Antenna can drive any receiver with 50 ohm input impedance and will perform FCC, MIL-STD and TEMPEST tests. The SAS-550-1B includes a battery pack and charger for open field test sites that may not have ready access to outlets.
Recommended accessories for the SAS-550-1B (items not shown) are: ATU-510 (Antenna Tripod Unit, wooden) AEH-510 (Azimuth and Elevation Head, Plastic) SAC-210 (3 meter BNC/BNC Cable, RG-58A/U) ADP-201 (BNC(f) to N(m) Adapter ECF-10 (Capacitance Fixture, 10pF)
Webinar - "The 10 Factors You Need to Consider When Selecting an EMC Antenna"
Welcome to A.H. Systems, inc.
A.H. Systems has been established since 1974 and manufactures a complete line of affordable, reliable, EMI test equipment. Our individually calibrated EMI Test Antennas, Preamplifiers, Current Probes and Low-Loss Cables satisfy many test standards including CISPR, MIL-STD, FCC, EN, VDE, IEC and SAE. With a wide variety of mounting configurations, we can also offer tripods and accessories that compliment other EMI testing equipment used to complete your testing requirements. We are also committed to providing all of our clients with no cost prompt and professional technical support. Manufacturing high quality products at competitive prices with immediate shipment plus prompt technical support are our goals to improve the quality of your testing requirements.