Antenna Calibration Services
Service Detail from A.H. Systems Inc.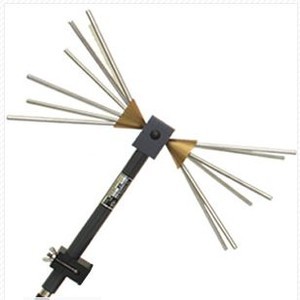 Calibration Services
Annual recalibration is important to ensure repeatable and reliable data. At our facility, we calibrate our own antennas, as well as, most other brand antennas in accordance with SAE, ANSI, IEEE and CISPR specifications. Calibration data can be provided for 1, 3 and 10 meter distances up to 40 GHz. All Testing Equipment is NIST Traceable and comes with a calibration certificate per ANSI/NCSL Z540 that conforms to an internal quality system based on ISO 17025.
To meet with your exacting standards, we also comply with the following standards and practices:
ISO/IEC 17025
ANSI/NCSL Z540-1
MIL-STD 45662A
Calibration Traceability
To ensure repeatable and reliable antenna measurements, our measurement test equipment is recalibrated and traceable to NIST. This traceable test equipment results in a good uncertainty to the true value being measured.
Calibration Data
Calibration Data is maintained in a secure location as well as backed up to an offsite location. A hardcopy of the calibration results will be kept on-site for a minimum of 3 years and all soft copies will be maintained for 10 years.
Calibration Standards
To ensure an acurate and quick calibration service, please specify what standard to perform the calibration to. Below is a list of the calibration standards that we can calibrate to:
ANSI C63.5 - American National Standard for Electromagnetic Compatibility-Radiated Emission Measurements in Electromagnetic Interference (EMI) Control-Calibration of Antennas (9 kHz to 40 GHz)
SAE ARP-958 - Electromagnetic Interference Measurement Antennas-Standard Calibration Method
IEEE 291 - IEEE Standard Methods for measuring Electromagnetic Field Strength of Sinusoidal Continuos Waves, 30 Hz to 30 GHz
RCTA DO-160 - Environmental Conditions and Test Procedures for Airborne Equipment
CISPR 16 - Specification for Radio Disturbance and Immunity Measuring Apparatus and Methods
Other standard and calibration techniques are available upon request.
Types of Antennas calibrated
The most common antenna types that we calibrate.
Biconical Antennas
Loop Antennas
Log Periodic Antennas
Monopole Antennas
Hybrid Biconical/Log periodic
Current Probes
Horn Antennas
Preamplifiers
Dipole Antennas
Cables
Discone Antennas
Specialized Measurement Services
Not only have we been calibrating and characterizing antennas to military and government standards for over 35 years, we have also tested and characterized antennas to some unique and challenging specifications.
Antenna Pattern Measurement services
We are pleased to offer antenna beamwidth pattern measurement services. Our computer controlled automated antenna pattern measurements covers a wide spectrum up to 40 GHz.
Here is a pdf version of our product catalog.
Articles, Test Guides and Webinars
Welcome to A.H. Systems, inc.
A.H. Systems has been established since 1974 and manufactures a complete line of affordable, reliable, EMI test equipment. Our individually calibrated EMI Test Antennas, Preamplifiers, Current Probes and Low-Loss Cables satisfy many test standards including CISPR, MIL-STD, FCC, EN, VDE, IEC and SAE. With a wide variety of mounting configurations, we can also offer tripods and accessories that compliment other EMI testing equipment used to complete your testing requirements. We are also committed to providing all of our clients with no cost prompt and professional technical support. Manufacturing high quality products at competitive prices with immediate shipment plus prompt technical support are our goals to improve the quality of your testing requirements.
Useful formulas for RF related conversions
Frequently used conversion factors, how they are derived, and why they are used. If you need to convert from one series of units to another for any reason, this is the tech. note for you. Typical EMC Related Formulas
View our other RF Conversion formula sheets:
Magnetic field convertions
dBm to Volts to Watts_Conversion
VSWR Calculations
Field Intensity Calculation