Adjustable telescoping dipole antenna
Featured Product from A.H. Systems Inc.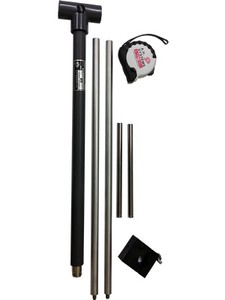 Frequency Wavelength Calculator
This frequency wavelength calculator is useful for calculating the requred antenna element length of a dipole or rod antenna for the frequency of interest.
The A.H. Systems' TV-1 adjustable telescoping dipole antenna provides an accurate standard for precise EMI and site attenuation measurements (per OET-55 and ANSI C63.5). This half wave dipole is an ideal solution for Radio/Television broadcast and land mobile radio engineers. The TV-1 is manufactured per the FCC balun design and individually calibrated.
Included parts:
TV-1 Antenna Balun
2 adjustible telescoping element
2 extension elements
Tape measurer, Inch/Metric
ABC-TD, Balun Clamp with 1/4-20 thread
Antenna Calibration Manual
Dipole Antennas 25 MHz - 3 GHz
These half wavelength resonant dipole antennas are the foundation of every compliance testing lab. Initial designed by Willmar K. Roberts, these precision made half wavelength dipole antennas are the ideal solution for site attenuation measurements. Each antenna is manufactured with a balun loss of less than 0.5 dB and a VSWR of less than 1.5:1 The half wavelength resonant dipole antenna is the simplest antenna from a theoretical point of view, and are commonly used as a gain reference.
Here is a pdf version of our product catalog.
Articles, Test Guides and Webinars
Welcome to A.H. Systems, inc.
A.H. Systems has been established since 1974 and manufactures a complete line of affordable, reliable, EMI test equipment. Our individually calibrated EMI Test Antennas, Preamplifiers, Current Probes and Low-Loss Cables satisfy many test standards including CISPR, MIL-STD, FCC, EN, VDE, IEC and SAE. With a wide variety of mounting configurations, we can also offer tripods and accessories that compliment other EMI testing equipment used to complete your testing requirements. We are also committed to providing all of our clients with no cost prompt and professional technical support. Manufacturing high quality products at competitive prices with immediate shipment plus prompt technical support are our goals to improve the quality of your testing requirements.
Useful formulas for RF related conversions
Frequently used conversion factors, how they are derived, and why they are used. If you need to convert from one series of units to another for any reason, this is the tech. note for you. Typical EMC Related Formulas
View our other RF Conversion formula sheets: