High Field Rod Antenna Kit
Featured Product from A.H. Systems Inc.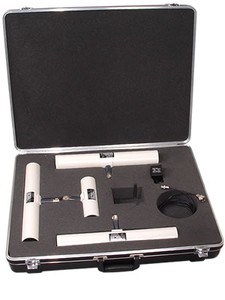 Antenna Kit AK-HFR
Description
For applications where high sensitivity is required, A.H. Systems set of H-Field Rods provides an accurate standard for magnetic field testing.
Features
100 Hz to 30 MHz
Individually Calibrated
Improved Sensitivity
Rugged Construction
Three Year Warranty
The A.H. Systems set of H-Field rods provide an accurate standard for magnetic field testing. For those situations when improved sensitivity is desired in magnetic field testing, the H-Field rod is an effective alternative to traditional loop antennas. One matching preamplifier with a 1/4-20 mount, covers the entire frequency range and can be used with any or all of the H-Field Rod Antennas.
A.H. Systems offers 16 models of portable antenna kits. Each kit provides all the reliable antennas, current probes and accessories needed to satisfy a wide array of customer requirements. Each component has a specific storage compartment in the carrying case therefore, loss and breakage are virtually eliminated. Cables, a tripod with azimuth and elevation head and a tripod carrying case accompany each antenna kit. Click on a model below to learn more about it's characteristics and included antennas.
A.H. Systems has been established since 1974 and manufactures a complete line of affordable, reliable, EMI test equipment. Our individually calibrated EMI Test Antennas, Preamplifiers, Current Probes and Low-Loss Cables satisfy many test standards including CISPR, MIL-STD, FCC, EN, VDE, IEC and SAE. With a wide variety of mounting configurations, we can also offer tripods and accessories that compliment other EMI testing equipment used to complete your testing requirements. We are also committed to providing all of our clients with no cost prompt and professional technical support. Manufacturing high quality products at competitive prices with immediate shipment plus prompt technical support are our goals to improve the quality of your testing requirements.