SAS-570 Double Ridge Guide Horn Antenna
Product Announcement from A.H. Systems Inc.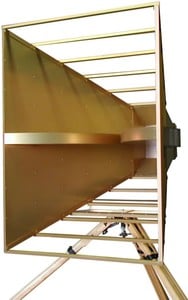 The A.H. Systems' Double Ridged Guide Horn is a broadband antenna that offers excellent performance over the frequency range of 170 MHz - 3 GHz. High gain, low VSWR, input handling capability up to 800 watts CW and rugged design make these horn antennas excellent for both immunity and emissions testing.
Recommended accessories to go with SAS-570 (items not shown): ATU-510 (Antenna Tripod Unit, wooden) AEH-510 (Azimuth and Elevation Head, Plastic) PAM-0204 (Preamplifier) SAC-211 (3 meter N/N Cable, RG-58A/U)
---