Stainless Steel Return Grille
Featured Product from A-J Manufacturing Co., Inc.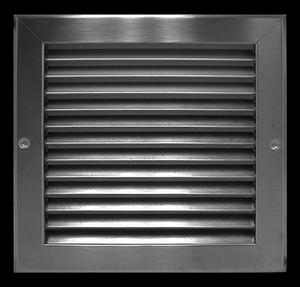 The Series 550 Return Air Grille is styled to match the 150 and 250 Supply Grilles. The face bars are non-adjustable and available in either a horzontal position (H) or vertical position (V), factory set at either 0° or 45° degrees, spaced on .750″ centers.
The same hollow air-foil bars used on the supply grilles are used on the return air grilles.
Available with horizontal face bars (550H) or vertical face bars (550V).
Specify: Series S-44 Opposed Blade Damper to make return register. The S-44 OBD assures even distribution of air across the grille face, as well as positive volume control
Standard Features
All Type 304 Stainless Construction
#6 x 1.25″ Stainless Sheet Metal Screws
#4 Satin Polished Finish
Optional Upgrades
Type 316 Stainless Steel
.5″ Blade Centers
Baked Epoxy-Polyester Hybrid Powder Coat Finish Available