Maximum Security Supply or Return Grille
Featured Product from A-J Manufacturing Co., Inc.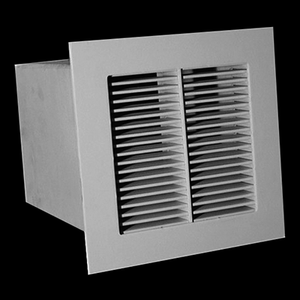 The SEC-3 1/8″ Maximum Security Grille is constructed with a 14-gauge steel frame and 1/8″ x 1/2″ blades on 1/2″ centerse supported by 14-gauge vertical bars on 6″ centers. Blades can be fixed at 0º, 15º, and 40º deflection. A 14-gauge sleeve, 1 1/2″ long for floor grilles, is welded to the face plate. Sleeves can be various depths to accomodate wall and ceiling constructions. Factory primed gray or white.
Standard Features:
Face: 14-gauge steel stitch welded to sleeve with 1" face flange.
Blades: 1/2" x 1/8" steel bars on 1/2" centers; 40º deflection standard; blades penetrate supports and are welded to sleeve.
Supports: 14-gauge steel, 6" OC, stitch welded inside sleeve.
Screen: 10-gauge (.135" diameter wire) x 2" mesh (1/2" centers).
Sleeve: 14-gauge Steel with continuously welded or formed seams.
Finish: White, two-part polyurethane inside and out.
Optional Upgrades
Any Gauge Faceplate
Other Flange Dimensions
Blades at 0º, 15º, or 40º of Deflection
13-gauge x 1/2" Clear Opening with Expanded Mesh
For full list of options and upgrades, please download submittal.